How To Control What You See On Facebook and Other Social Media Platforms
Hooked on social media? You're not alone. According to the Pew Research Center, in 2021, 72% of Americans used social media, with seven in ten visiting Facebook and six in ten visiting Instagram and Snapchat at least once a day. Of course, people use social media platforms, including Facebook, Instagram, Twitter and TikTok, for various reasons – conversing with others, sharing helpful information, entertainment … blowing off steam, ranting …
It's the latter reasons that might lead you to find yourself searching for "how to turn off Facebook stories" or "how to mute someone on Instagram without hurting their feelings."
You can take control of what you see on your social media feeds.
How to Control What You See in Your Facebook Feed
Facebook set a precedent for sharing information, news, and connecting with family, friends, and like-minded people. In the almost two decades since it launched, Facebook has faced scrutiny and legal consequences over its handling of users' private information, and addressing false news, hate speech and cyberbullying. If you find yourself doomscrolling or feeling overwhelmed by what you see in your Facebook feed, there are a few things you can do to limit the negative content, such as: 
Mark news stories as false
Unfollow a person or page
Turn off Facebook stories by hiding them
Report content you think violates Facebook Community Standards
How to Distance Yourself From Social Media Connections
From a Facebook friend (With and Without Unfriending)
What if the negativity is coming from your friends on Facebook, but you don't want to unfriend them? You can unfollow a person, page, or group, block someone's profile or take a break from someone, which allows you to limit seeing that person's posts or posts they're tagged in. The person you are taking a break from will know you have stepped back if you change settings limiting their ability to see your posts or past posts. When you take a break, Facebook will also remove you as a contributor from any shared albums.
In the upper-right corner of a post from your friend, click the three dots, and select 'Snooze for 30 days" to take a break from their content:
Unfollow someone on Facebook (meaning their content will be de-prioritized but not blocked in your feed):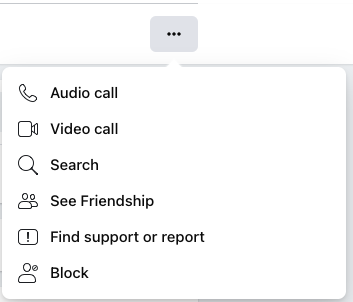 Block someone (which will defriend them):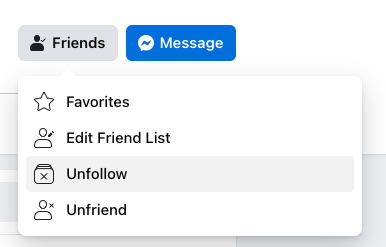 Pro-tip: You can also "follow" and "favorite" content from other people and pages, which will push content lower in your feed that you find less interesting or negative. We've got suggestions below, in "How to Fill Your Feed With Uplifting Content."
From a Twitter connection
If you have a Twitter account, you can mute someone without notifying them. Enabling this feature will remove that account's tweets from your timeline. You can unmute the account at any time.
How to Mute Someone on Instagram
Because Facebook owns Instagram, the steps for muting someone on Instagram are similar to Facebook. The mute feature is not available on computers, but only on Android and Apple mobile devices. If you wish to prevent someone from viewing your Instagram stories, you can hide your story. This option differs from blocking someone and allows them to view your profile and posts.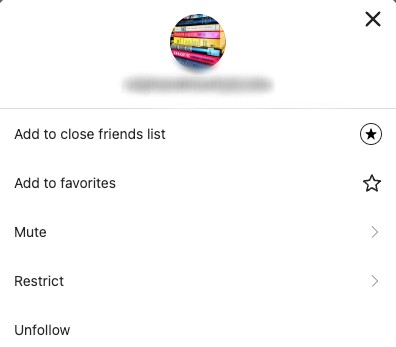 Can You Block Hashtags on TikTok?
We've had some readers ask, "can you block hashtags on TikTok?" Yes, you have a few options for limiting TikTok content. Whether you enable Restricted Mode or filter videos by keywords, you can control what shows up in your TikTok feed. And with Family Pairing, parents can link their account to their teen's TikTok account and customize settings, including screen time, search, discoverability, direct messaging and comments.
How to Fill Your Feed With Uplifting Content
If your social media feeds seem to share nothing but doom and gloom, it's time to think about filling your feed with uplifting content that makes you feel good. Here are a few public Facebook groups and pages to get you started:
Some uplifting content on other social media platforms:
Instagram
The Good Quote shares positive and motivational quotes with its 24.4 million followers.
Happsters has been sharing kindness and cuteness since 2013.
Mindset of Greatness focuses on helping you achieve greatness in life through wisdom, light, and love.
Twitter
We Rate Dogs is all about man's best friend, which will get you LOL-ing in no time.
Wholesome Memes posts lighthearted memes, comics, and other stuff to their 3 million followers.
Dad Jokes shares those eye-rolling types of jokes we've all heard and love. 
TikTok
A Cup of Self Love shares inspirational messages.
I am Tabitha Brown incorporates vegan recipes, humor, and motivational speaking in posts to her 4+ million followers.
Tiny Kitchen fascinates and mesmerizes its over 2 million followers with its cooking videos of minuscule foods. Every recipe is edible!
Now that you have your social media feeds the way you want them, you can quickly navigate your favorite social media, including Facebook, Instagram, Twitter, and TikTok. To do this, simply enable the OneLaunch Social app anytime you're in OneLaunch and you can jump between social media with one click.
---