OneLaunch is a free downloadable software program for Windows users who want to customize their desktop experience. Simply put, OneLaunch is a fantastic alternative to your bare-bones out-of-the-box Windows experience.
It is not malware or a virus — which we explain in the next section.
OneLaunch is a Windows dock and dashboard that puts all of your desktop favorites at your fingertips, plus a few little gems that you didn't know you wanted. OneLaunch is a fast web browser (built on Chromium) and a powerful desktop customization tool rolled into one.
First, let's debunk some myths and misinformation about OneLaunch. OneLaunch is not a virus, and it is not malware.
Is OneLaunch legit?
Goodness, yes.
OneLaunch is not malware. Viruses and malware are built with malicious intent and they are installed without your knowledge. Malicious software is designed to steal your personal information and invade your privacy.
We designed OneLaunch for selfish reasons: We wanted to improve our desktop browsing experience. It's a program that lets you take control of your computer and upgrade your Windows PC.
We at OneLaunch are totally transparent about our program and its intended use. We designed and built it because we wanted to customize our desktops with the features that we use the most, and we knew you would want that too.
OneLaunch is not malicious software. You decide when to install it, when to disable it, and when to uninstall it (though we hope that never happens!). 
How to uninstall OneLaunch
We hate to see you go, but we understand that not every program is for every PC user. Although we designed OneLaunch so you can customize your desktop the way you want it, we understand that some people prefer to stick with the manufacturer's setup.
Before you uninstall OneLaunch, did you know that you can temporarily disable it? This comes in handy if you want to stream a movie to your desktop, for example. The next section covers how to temporarily disable OneLaunch.
To uninstall OneLaunch or almost any software program from your Windows PC, the steps can vary, depending on what version of Windows you are using.
Click the Start button (bottom left of your screen) and then select Settings.
Click Apps and scroll the alphabetical list to find OneLaunch.
Click it once, select Uninstall and follow the prompts to remove it.
If you would prefer to see how to uninstall it, one of our team members walks you through the OneLaunch uninstall process in this 2.5-minute video.
How to temporarily disable OneLaunch
If you want to temporarily disable OneLaunch because, for example, you want to use your full screen to stream a movie or play a game, here's what you do:
Click the menu in the upper right and select "Close dock."
To reopen it, click the OneLaunch desktop icon.
This 1.5-minute video shows you how easy it is to do.
Now that we've debunked virus and malware myths about OneLaunch, we invite you to take a peek inside the program to learn more about what OneLaunch is and what it does.
What OneLaunch Does
Knowing that more than 90% of adults in America use the internet every day (according to Pew research), we felt the search bar would be the most important feature.
So, we put the internet search bar in the upper left of the OneLaunch dock — front and center, so to speak — so it's the easiest feature to launch.
Here, one of our developers shows you other important features of OneLaunch and how he customized his own dashboard with a clock, local weather, and a news feed.
You can still use your favorite applications for your home and business — Microsoft Office, Adobe Suite, social media apps, Google Drive, streaming apps to name a few. Plus you can add features that will delight you.
The OneLaunch apps marketplace offers apps and widgets to make your day-to-day more productive — calculators, maps and directions, speed tests, wallpapers, games, news feeds, shipment tracking, horoscope, stock prices, and so much more.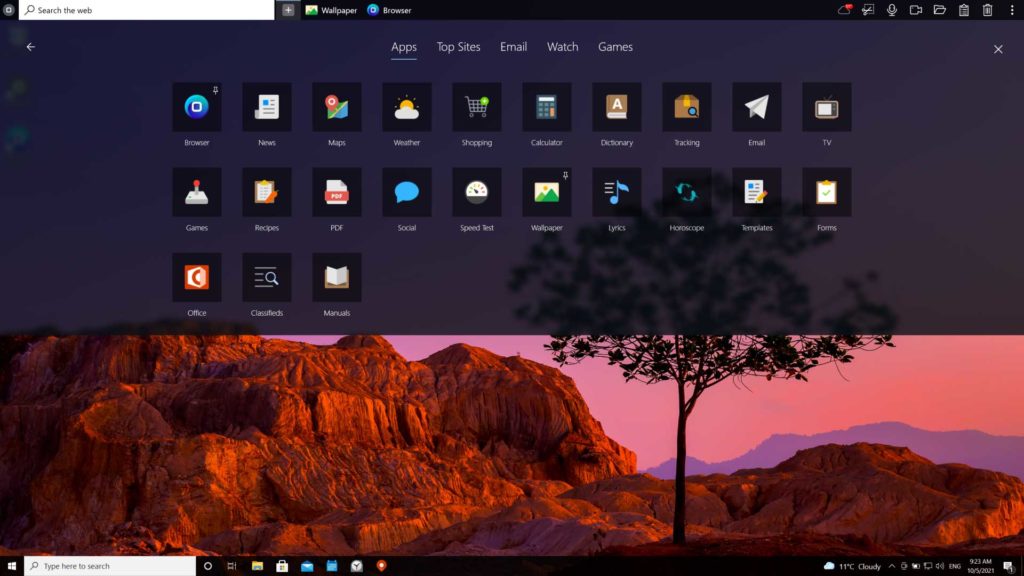 OneLaunch Bells and Whistles
Customize your dock and dashboard with these popular features:
Check email
Shop
Track shipments
Check the weather
Connect with social media
Get maps and directions
Read today's headlines and top stories in the customizable news feed
Two of the most popular features that OneLaunch users rave about are the snipping tool and the clipboard history.
Snipping tool: The OneLaunch dock has a built-in drag-and-drop snipping tool that lets you take a screenshot of an entire screen or a portion of your screen. It is incredibly easy to use.
Clipboard history: While we all love the CTRL+Z undo feature to retrace our steps and undo mistakes, sometimes we just want to go back in time without undoing our work. The OneLaunch clipboard stores a complete history of your cut and copied word so you never lose important content.
We've also added some features that you never knew you wanted, but once you try them you'll wonder how you lived without them. Here are a couple of our favorites:
Camera and microphone toggles: Quickly mute your microphone or turn off your camera, no matter what program you're using (Skype, Google Meet, Zoom or Facetime, or whatever app you prefer). No more rooting through open windows to find your video screen (and you can ditch the sticky note that covers the lens!). Simply click the toggle button on your dock to mute your mic and turn off your camera.
Recycle bin quick access: If you're like most of us here at OneLaunch, you've got lots of applications and browser windows open at one time. So when you need to move something to the trash bin or retrieve something you've "filed" there, you have to click, click, click to get to the Windows Recycle Bin, right? OneLaunch puts your recycle bin neatly in the dock, so it's always just one click away.
OneLaunch was created by Windows users for Windows users, and yes, it is legit software. We hope you'll enjoy it and be delighted with all the bells and whistles. We are adding new features to OneLaunch and the OneLaunch app marketplace all the time, so let us know if there is a feature you love or want to see.