What's New in Windows 11
Windows 11 started making its way to computers in October. Because Microsoft is rolling out the OS in phases, it's possible that Windows 11 isn't available for download on your device yet—Microsoft says all eligible devices will receive a free upgrade opportunity by mid-2022. With that said, there are some changes in this newest operating system you should know about before downloading Windows 11.
OneLaunch's W-11 Sneak Peek
Windows 11 Features
While Microsoft's newest operating system comes with plenty of new features, there are a few standouts.
A clean, sleek desktop. With Windows 11, Microsoft introduces us to a clean, sleek, Mac-like desktop with a centered Start menu and taskbar and a host of new backgrounds and theme options.
Personalized widgets. An update to your widgets makes them accessible directly from the taskbar and allows you to personalize what you see at a glance based on your interests within the widgets panel. You can further change the placement and size of your widgets.
Native Android apps. Although there were a couple of workarounds for accessing Android apps in Windows 10, with the newest OS, they will be native to Windows and are accessible via the Amazon Appstore in the redesigned Microsoft Store. 
Integrated Microsoft Teams. You can now launch Microsoft Teams from the taskbar and access it across Windows, Mac, Android, and iOS devices.
Improved transition between devices. Windows 11 makes it easier to plug and unplug from a monitor without any lost open windows. With this multi-monitor improvement, Windows remembers where you left a window when you connected an external monitor and places it back in that position when you reconnect. Windows 11 can further minimize windows when a monitor is disconnected to ensure they don't obscure any apps on your primary monitor when reconnected.
Better multitasking tools. Microsoft improved its Snap assist with Snap layouts and Snap groups options, making it easier to jump between windows and applications. 
Revamped virtual desktops. Similar to macOS, you can set up Windows virtual desktops for personal, work, school, and gaming use and toggle between them. You can further customize each with a unique name and background. In addition, you can use different apps on different desktops or use the same app, but a different version, across the desktops, allowing you to perform multiple tasks in that app without losing your work in other desktops. 
Improved Xbox gaming tech. Windows 11 is made for gaming. The OS has the Xbox app built-in and brings new features like Auto HDR, which can automatically upgrade DirectX 11 and 12 games to High Dynamic Range (when you use an HDR-capable display). It also supports DirectStorage enabling faster game loading times, thus, improving your gaming experience, even in expansive worlds.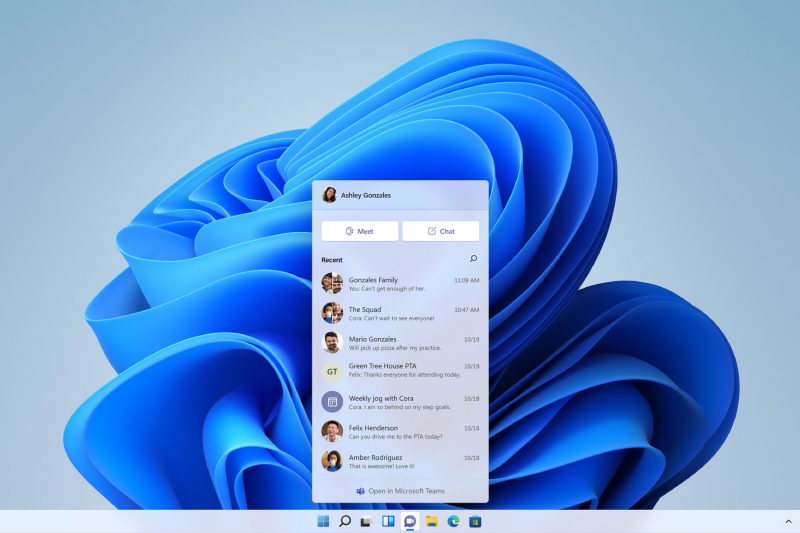 What are the Windows 11 System Requirements?
Newer PCs shouldn't have any issues meeting the system requirements for installing Windows 11. But, what if your machine is older? Chances are, if the hardware is outdated, you won't be able to install Windows 11. However, before you run out to buy a new PC, you should check your computer to verify whether it meets the minimum requirements. Here's what you need and how to check your PC.
CPU: 1 GHz  or faster with two or more cores on a compatible 64-bit processor or System on a Chip (SoC)
RAM: 4 GB
Storage: 64 GB or larger
System firmware: UEFI, Secure Boot capable
TPM: Trusted Platform Module (TPM) version 2.0
Graphics card: Compatible with DirectX 12 or later with WDDM 2.0 driver
Display: High definition (720p) display that is greater than 9" diagonally, 8 bits per color channel
Internet and Microsoft account: Windows 11 Home edition requires internet connectivity and a Microsoft account
If you aren't sure about your PC hardware or you simply want to make sure, the easiest way to verify your computer's specs is to run Microsoft's PC Health Check app. Note: This app doesn't check for display or graphics card, as most systems meet Windows 11 requirements. To upgrade to Windows 11, your PC must be running Windows 10, 2004, or later.
Is Windows 11 Worth It?
You're probably wondering should I upgrade to Windows 11? While you may be comfortable working in Windows 10 and are uncertain of Windows 11, know that eventually (in 2025), Microsoft will no longer support Windows 10. This means in three years, you won't have access to any updates, including necessary security ones. In addition, upgrading is free and brings the features discussed above, plus much more.