What is a Productivity App?
How OneLaunch Defines Productivity Tools
Did you know the typical adult will spend 44 years staring at screens on desktops, laptops, TVs, phones, e-readers, and gaming devices? According to a survey tasked by VisionDirect, those four-plus decades calculate out to 382,652 hours and 48 minutes over the average adult lifespan of 60.7 years. We admit that taking care of everyday responsibilities without using a screened device can be rather tricky. However, you need to ask yourself, is your screen time productive, or is it mostly wasted time? If you find yourself failing to complete essential projects, activities, or tasks because of wasteful screen time, productivity tools can help you stay on track, get things done, and hopefully regain some hours back. If you've never used productivity software, you're probably wondering what exactly a productivity app is? What is a productivity app? Here we define productivity and share how a few applications can positively impact your time on your devices.
What is Productivity?
Quite simply, productivity is the state or quality of being productive. Unfortunately, that definition does not clarify what it means to be productive with your time. On the other hand, Merriam-Webster further defines productive as being effective in bringing about something like yielding results, benefits, or profits. Using this meaning, it's now easy to see that productivity requires you to complete tasks necessary to realize a goal.
What are Productivity Applications?
So, how do productivity apps help you achieve your objectives, whether they be work-related or personal? Productivity apps perform some, if not all, the necessary steps toward your goal for you. In essence, productivity applications like our own (OneLaunch) help you get more done, in less time, making your job, at the office or home, more manageable.
How OneLaunch Can Help You Increase Your Work or Personal Productivity
OneLaunch is a free productivity app for Windows users that provides a streamlined user interface with a host of features. By customizing your desktop to fit your needs with OneLaunch, you can eliminate the wasted time bouncing back and forth through window tabs and open applications. Instead, use OneLaunch as your web browser and pin your most-used apps, bookmarks, and widgets to the OneLaunch dock, making them readily available. Here's a quick look at some of its top features:
Track shipments
Do you live for Amazon deliveries at your house? Maybe you order items for your work through various carriers. OneLaunch offers Tracking, a tool in which you can view your packages from UPS, FedEx, USPS, and DHL all in one place. Tracking displays the last five shipments you searched under Recent Packages.
Customize your newsfeed
With the customizable OneLaunch News tool, you don't need to waste time scrolling through every news piece just to get to those you want to view. You can select to view stories from 10 specific categories or general for a mixture of the latest news. The categories include:
Entertainment
Sports
Money
Travel
Lifestyle
Health
Shopping
Video
Autos
Local
Access Microsoft Office and Google Workspace
If you work with Microsoft Office or Google Workspace, you will appreciate the quick access to all of these productivity apps within one space, Office, on your OneLaunch dock.
Microsoft Office:
Word
Excel
PowerPoint
OneNote
Google:
Toggle camera and microphone
Whether you're using Zoom, FaceTime, Skype, Microsoft Meetings, Google Meet, or other video-communication services, there's nothing worse than having to search for the mute button or video off switch when you need them. Instead, you can quickly mute your microphone or disable your camera, with conveniently placed buttons in the upper right corner of the OneLaunch dock, saving you time and potential embarrassment.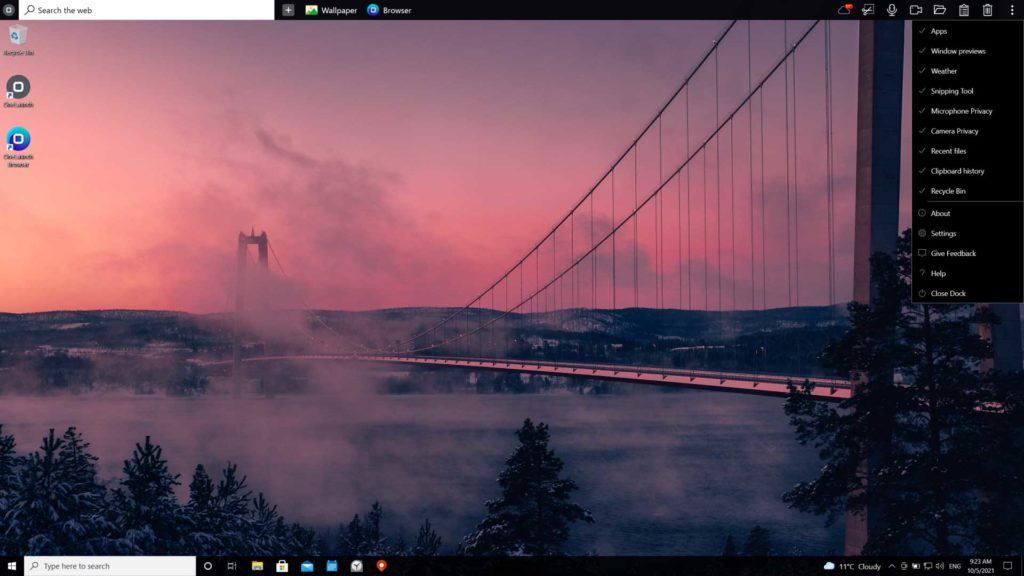 Take screenshots or snip images
Need a full or partial screenshot of your screen without the hassle of opening a separate app? The OneLaunch snipping tool allows you to snip an image in four ways: rectangular, free form, window, and full-screen. Housed in the upper right corner, tap the Snipping Tool button and select your shape. Your image will automatically save in the OneLaunch Clipboard.
Retrace your steps
Ever frantically spend time hitting CTRL-Z to undo your writing? Thanks to OneLaunch, you no longer need to worry about losing important cut or copied work. To retrace your steps, simply tap the OneLaunch Clipboard History icon (in the upper right corner of the dock) to view your complete history of any cut or copied text or images.
The OneLaunch dock also has a search bar to make browsing the internet while using other OneLaunch features seamless. Plus, by default, the Windows File Explorer and Recycle Bin are pinned so that you can access recent files and move (or retrieve) something from the trash.
Binge your favorite shows and stay abreast of your social media
While these two OneLaunch features may not help with productivity unless you're an influencer, they do make staying up-to-date with your Facebook and TikTok accounts along with binging your favorite shows from channels including Netflix, Hulu, and Prime Video easy.
Greater productivity at the click of a button? Yes, OneLaunch and its customizable dock can help you regain hours previously wasted.