Why Would Someone Need OneLaunch for Their Windows PC?
Looking back at the history of Microsoft's Windows versions, you'll notice that the desktop experience has not changed much from 1998 to 2023. This can be a good thing; after all, "if it's not broken, why fix it?" But modern Windows lacks a lot of customization options to focus your desktop on the apps and programs that you actually use.
Enter OneLaunch: The ultimate Windows customization software.
OneLaunch is a desktop integration app that streamlines your Windows experience. If you download OneLaunch, your desktop taskbar will be reorganized into a dock that's packed with all the apps and features you need. The best part is that OneLaunch is highly customizable, meaning you can tweak what apps and shortcuts are displayed within the dock.

Let's go through some of the many customization options available so you can see why OneLaunch is one of the best apps for Windows 10 and 11.
Best Desktop Customization
By default, the Windows taskbar allows you to pin programs that you commonly use to it for further use. OneLaunch takes this a step further by organizing your taskbar into different sections that you can define.
Pin not only your favorite apps and programs but also your favorite websites, frequently accessed folders, and favorite files. Get the latest news updates, and see the weather forecast for the week all in one place. If you need to use it, OneLaunch will help you get there without a hassle.
All of this is stored in a dock that you can align anywhere on your desktop. When you're not accessing the OneLaunch dock, it will be tucked away until you need it again.

What about the rest of the desktop?
OneLaunch lets you reorganize your desktop layout and theme with no hassle. If you're searching for a new background style, or want to tweak your desktop colors, OneLaunch has you covered. Choose from light or dark windows themes and alter your desktop background all from the app!

In fact, OneLaunch will even help you organize your desktop icons and let you pin individual website pages or links anywhere you want. No more crowded icons covering up your background pictures!
Improve Your Workflow
OneLaunch works great on home Windows desktops and work computers alike. If you're using your computer a lot in the workplace, chances are you need to quickly access several programs, take frequent screenshots, and open multiple sites without any issues.
The OneLaunch dock will help you accomplish all that and more with its many built-in features. The snip feature, for example, is built into the top of the dock. This allows you to screenshot specific regions of your screen.

The snip that you make will then be stored in a clipboard easily accessible when you need it. See your screenshot history with Ctrl + Alt + V and pull old snips that you've made up at any time!

OneLaunch has a built-in web browser that uses the same Chromium software that Google Chrome uses. But if you have a different browser that you prefer, no problem! OneLaunch allows you to change what browser and search engine it uses to search the web for you.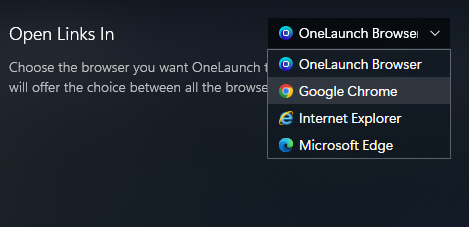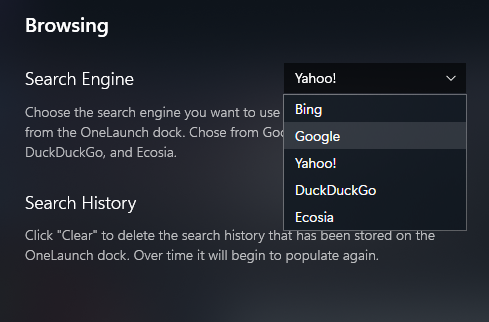 Changing what apps and programs are displayed on the OneLaunch Dock is easier than ever. Simply click the + icon to open the OneLaunch apps library. Here, you'll be able to pin anything from files to bookmarks to programs on your dock for quick access.
This is perfect for work-related websites and programs that you need to commonly use. You can even pin PDFs and other documents to your dock in case you want to quickly jump back to a project you're currently working on.
Explore OneLaunch Today
OneLaunch is available to download right now absolutely for free. Download and begin tweaking your desktop around your specific needs and interests. If you want to know more about OneLaunch and the many features available to all of our users, check out the OneLaunch Knowledge base to help you get started. 
Or, check out OneLaunch's Security and Privacy features to see how OneLaunch keeps your browsing data safe. 
You can even explore more Advanced Features that OneLaunch offers for deeper customization options. 
Try OneLaunch today to see what it's all about!