Track Packages From Your OneLaunch Window
In this post, we demonstrate how to track packages through the OneLaunch app, any time of year. Whether you are shipping packages for a busy holiday season, ordering online for your small business, or tracking purchases you've made, the OneLaunch app makes tracking packages easy.
If you're more of a visual person and prefer video to reading, this 4-minute video shows you how the package tracking app works for OneLaunch.
Tracking Packages for Holidays
OneLaunch makes tracking packages easy by combining the most-used delivery services into a single app. Here's a closer look at how to use our tracking app.
TIP: Images in this post are from OneLaunch for Windows 11; if you are using Windows 10, your screen may vary slightly.
How to Track a Package with OneLaunch
If you're looking for the best way to track packages, open OneLaunch on your Windows computer. If you don't already have OneLaunch, you can download it from our website. 
After opening, we need to pin the tracking app to the OneLaunch dock. To do this, click on the plus sign at the top of the dock. Once you're in the Apps Library, hover over the Tracking icon and click the empty box in the upper right corner. Now the Tracking app is pinned to your dock and ready to use.
Tap the box icon in the dock at the top of your screen, and you'll see you can track packages from the four top carriers.
Click on one of the carrier links, and OneLaunch will instantly send you to the respective carrier's tracking page. Here you can enter your tracking number online and find information like updates on where your package is currently, the expected delivery date, and how to contact the carrier if you have questions or issues about the delivery. For other couriers, simply tap the TrackingMore.com link.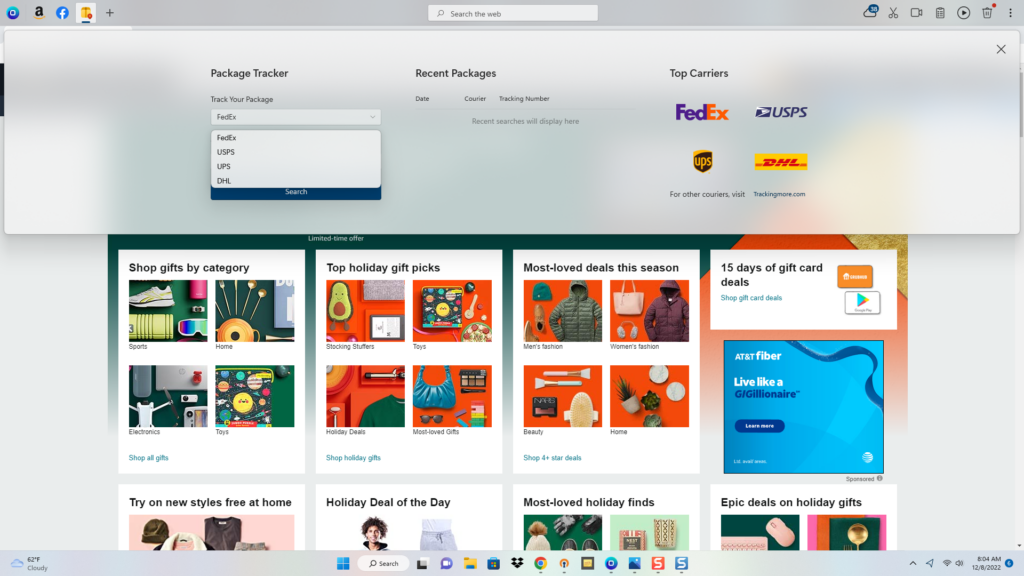 As an alternative, you can track shipments using the search options as seen on the left side of the Tracking app screen. Before you can search for a package, you need to select your carrier from the dropdown menu under Track Your Package. Enter your UPS, FedEx, DHL, or postal tracking number in the search box and tap the Search button. OneLaunch will take you to our partner site TrackingMore.com, where all you have to do is tap the Track button to find package information, such as an estimated delivery date.
Where is My Package?
One of the best OneLaunch delivery tracker app features is the Recent Package history. Here you can find the last four tracking numbers entered, so you don't have to keep typing in your numbers repeatedly as you watch your package along its journey.
Anytime you want the latest information on when your delivery stands, just click the appropriate Recent Packages tracking number, and the app will take you to TrackingMore.com and your tracking info as detailed above. As you track your packages through OneLaunch, a carrier site, or another online site, protecting your personal information can help you avoid fake package delivery scams.
We hope you find the OneLaunch tracking app helpful. We love hearing your feedback on existing OneLaunch features and ideas for future apps that we should add to OneLaunch.