Tour the World With OneLaunch's EarthView App
The OneLaunch team is constantly adding new features to OneLaunch to make your online experience more productive and enjoyable. One of our most recent additions to the OneLaunch app library is the EarthView app, which uses Google Earth satellite imagery to see the world from anywhere. Here we look at the app, how it works, and some fun things you can do with it.
Where to Find the OneLaunch EarthView App
To find the EarthView app within the OneLaunch application, tap the plus sign in the dock. Tap the EarthView icon in the Apps Library, and the application and its name will pin to your OneLaunch dock. If you prefer to remove the name to save space on your dock, right-click the EarthView globe icon and tap Hide Label.
How to Use the EarthView App
From the OneLaunch dock, click the EarthView globe icon to open the app. Here you'll find an EarthView section that has a search bar where you can manually add a location or point of interest to search. You'll also see a Fly to my location option, which will virtually "fly" you from your current location, as detected on your PC by the app, to any location you choose. Under the Explore section, you can visit some of the world's most famous landmarks with a single click of your mouse:
Eiffel Tower
Great Wall of China
Leaning Tower of Pisa
Great Pyramid of Giza
Statue of Liberty
Taj Mahal
If you're feeling adventurous and don't have a particular place in mind to view, click on the Mystery location option and see where the EarthView app takes you. The Top Sites section of the EarthView app offers resources and help for Google Earth and an alternative way to view and interact with our planet using the NASA Worldview.
Note: We've made a step-by-step video showing you how to use the OneLaunch EarthView app as well.
Fun Things to Do With EarthView
EarthView is a fun app for students, travelers, or anyone who loves to learn about the world. Parents and grandparents can use EarthView with kids to visit far-off lands, world landmarks and more.
To get started, type in a place or landmark in the EarthView search bar, select from a listed landmark or tap Mystery location. Once you're in Google Earth, viewing options in the lower right of your screen allow you to see places up close in 2D, immerse yourself in the environment with 3D and street view 360-degree walkarounds, plus zoom in or out. You can also move around at any point by pressing your right mouse button (this brings up a hand icon that you can drag whether you're in 2D, 3D or in globe view). What kind of fun things can you do with the EarthView app?
Create a Google Earth project
Highlight your travels or historical timelines with a Google Earth Project.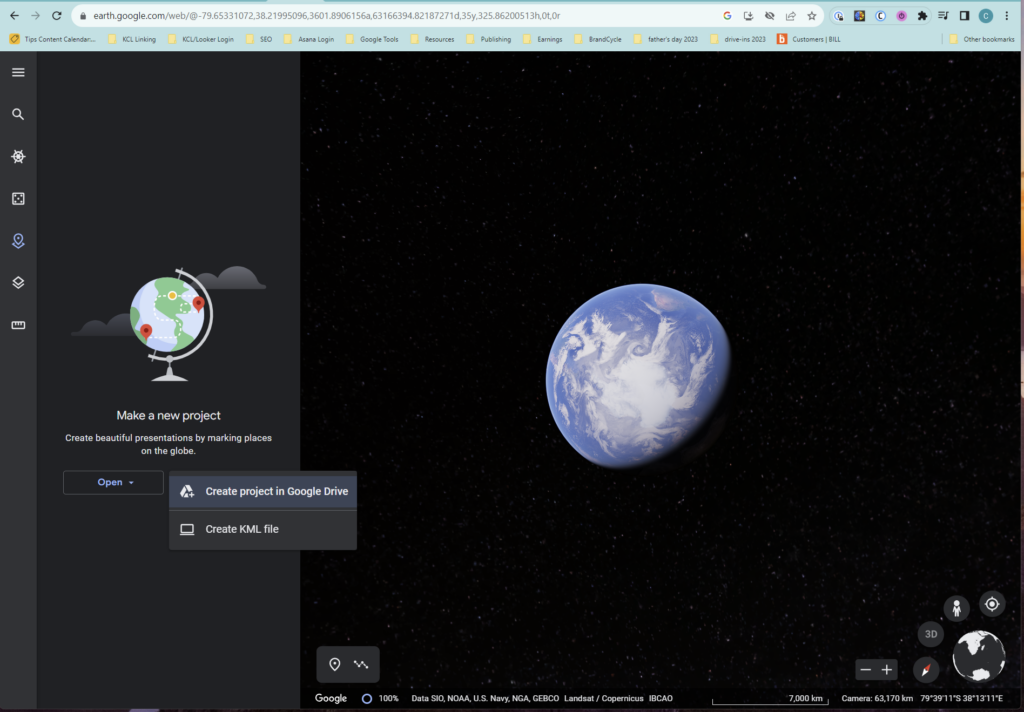 You can customize your project in several ways:
Draw lines or shapes directly on the map.
Add photos or videos.
Change the color and size of labels and adjust placemark icons and their color.
Measure the distance between two points.
Collaborate with others and share the presentation with anyone.
Preview a vacation
Make planning your next vacation easier by using the 360-degree street view to virtually visit a destination before you travel. It may give you a more authentic look at an area versus what you see in travel brochures or websites.
View a timelapse of the Earth
Click the Voyager icon (ship's wheel) in the menu, then Timelapse in Google Earth to view how the planet has changed since 1984.
You can search for a place using the search box or select from preset locations:
Changing Forests (the Amazon Rainforest near San Julian, Bolivia)
Fragile Beauty (Mamore River in Bolivia in its natural state, no human interventions)
Sources of Energy (surface coal mining at North Antelope Rochelle Mine in Wyoming)
Warming Planet (Columbia Glacier in Alaska)
Urban Expansion (Las Vegas, Nevada)
Visit your hometown
Check out where you or someone you know grew up. See if things are as they used to be, including your old home.
Take a Quiz on the Seven Natural Wonders
Test your knowledge about the world's Seven Natural Wonders with the Google Earth Quiz.
Find unusual markings in Earth
Look for unusual markings like Nazca Lines in Peru, the Badlands Guardian in Walsh, Alberta, Canada and The Tarapaca Giant in Chile.