A Guide to Disposing of and Recycling Old Computers
In a previous post, we provided a checklist for setting up a new computer, which got us thinking: What about getting rid of an old computer? What is the best way to dispose of old laptops and desktops?
Discarding unwanted electronic devices such as computers and laptops is referred to as electronic waste or "e-waste." These items might contain hazardous materials like mercury and lead. According to the EPA (Environmental Protection Agency), 25 states (plus the District of Columbia) have electronic recycling laws. So, before you get rid of an older computer, whether you're selling it, donating it, giving it to a family member, recycling it or simply throwing it away — read this.
We'll answer the questions:
How do I dispose of old computers, towers and laptops?
How do I clear personal information from a computer?
How can you recycle desktop computers, old PCs and laptops?
What are other things to do with an old computer?
First, How Much Are Old Computers Worth?
One easy way to determine how much an old computer is worth is to check prices on eBay:
Gather details about your computer, including the manufacturer, make, model, type of hard drive, memory, hard drive size, and the hard drive type like SSD (Solid State Drive). You can find this information in the owner's manual or the Windows System Properties. Simply right-click the window logo and select System, then take note of the computer's specific features.
Visit ebay.com and enter the manufacturer's name and model of your computer in the search bar. Select Electronics >> Computers, tablets and network hardware (on the left side of the screen), and click Search.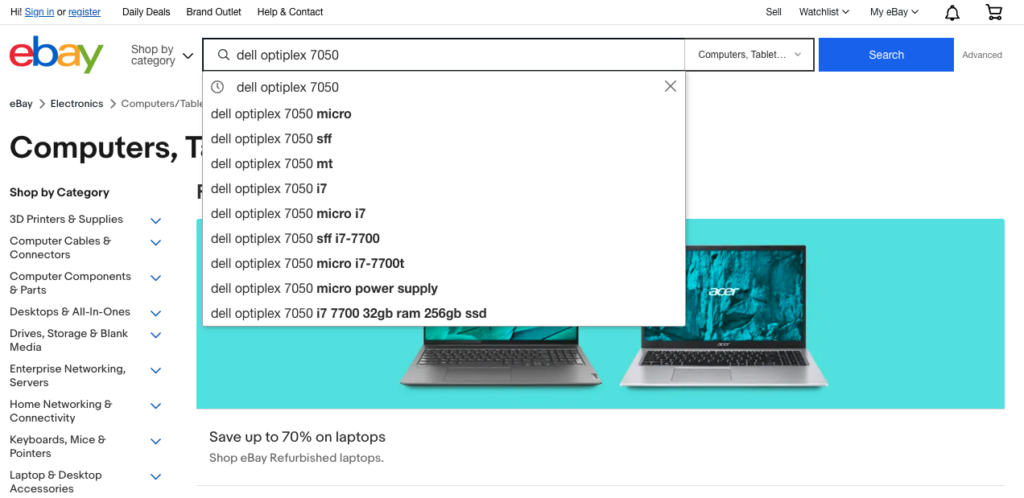 You can refine the search by certain features such as type (tablet, laptop, etc), screen size and operating system. Be sure to mark the condition (new or used) of your computer as well to get an accurate value. Determine a range of value among the varying prices from seller to seller.
Another way you can find a resale value on your computer is to use an online appraisal tool. Type "used computers appraisal" in Google Search and select a site. Don't pay for a computer appraisal; there are plenty of sites that will provide estimates for one used computer for free.
Preparing A Used Computer for Disposal
Before you get rid of a used computer, even if you're giving it to a friend or relative, you should erase your personal data. Here, we cover methods for securely erasing data from a hard drive, including tools and software available for data wiping.
Destroying hard drives and personal data
If you are disposing of a computer, should you "destroy" the hard drive so your personal information doesn't fall into the wrong hands? Before you reach for the sledgehammer and safety glasses … don't.
We're talking about destroying information on the hard drive, so it leaves no trace before you dispose of it. Then, physically and safely disposing of the hardware so it can be recycled or disposed of without harming you or the environment.
1. Backup your information
The first step to destroying your old computer is to back up the information on your PC. Once your data is erased, there's no retrieving anything, so back up your files before moving on. Backup options include an external hard drive or cloud storage services like Microsoft OneDrive, Google Drive, or Dropbox. After backing up your data, you can transfer your files to your new PC.
2. Migrate your information from your old computer to a new one
Many new computers come with instructions and equipment to connect your new computer to the old one, so you can migrate files from one to the other.
Migrating files is a technical process that varies from device to device, and also depends on what you want to transfer and what you want to dump. This isn't a tutorial for how to migrate data from one computer to another; in fact, we encourage you to defer to your new computer's manufacturer for how-to steps.
Generally, there are a few ways you can transfer data from your old computer to a new one.
Cloud-based file transfer: You can send and download files for free with cloud-based storage providers, including OneDrive (allows about 5 GB for free) and Google Drive (15 GB). Note that cloud storage is somewhat limited; for reference, 5GB is about 3,500 images. If your old computer has a large number of files, migrating them via an external hard drive with a greater amount of storage may prove a better option.
External hard drive file transfer: These days you won't have any trouble finding an external hard drive with at least 1TB (terabyte) or more storage. For perspective, 1TB of storage can hold about 6.5 million document pages or 250,000 images from a 12MP camera. Again, defer to the external hard drive's instructions for connecting and transferring files.
Direct cable connection: An easier method of transferring your data may be to connect the two computers with a cable such as a SATA cable or USB 3.0 cable and use computer transfer software like WeTransfer (free & paid subscription), SendAnywhere (free & paid subscription) and PCmover (one-time purchase).
3. Erase your old computer
While Microsoft's method for erasing a Windows computer through the system's settings is easy and straightforward, testing shows that this method still allows someone to access "erased" data. Because of this, experts suggest instead of erasing files on your computer, you write over them with data sanitation or destruction software.
One such free data destruction tool, Format Command with Write Zero, is built-in to the Windows operating system. In layman's terms, this means you will wipe your hard drive clean by overwriting your existing data with zeros. Each zero value protects your data from being accessed and cannot be undone by the hard device.
There are several other free data sanitization and destruction tools, including:
Before selecting a data sanitizer tool, read user reviews and the pros and cons of each. If you aren't particularly computer savvy, it might be worth seeking the help of a professional computer "geek" who can help you backup and transfer files. Many electronics stores and office supply stores have computer IT help desks that warranty and guarantee their work.
What To Do With an Old Computer
So, what can you do with an old computer? You can destroy it, donate it, recycle it or sell it. Here are a few ways you can your old system into something positive.
Environmentally friendly ways to recycle computers and parts
Help others by donating your used computer to a non-profit organization. While most only accept working computers, some accept inoperable devices.
If you're recycling a laptop, you'll need to properly dispose of the laptop batteries. Call2Recycle.org allows you to search your area for drop-off locations for all kinds of batteries, including Li-ion batteries used for laptops. Many Lowe's and Home Depot stores accept rechargeable batters.
Creative ways to repurpose old computers
Looking for alternative uses for old computers and components. You can find a world of ideas on the internet, in case you didn't know! We found creative ways (think jewelry, wall art, and organization) of repurposing old computer parts on Pinterest. Other options include using your old computer for repairs on other devices, converting your computer into a table, a digital photo frame, a security cam, or a home server for media or files everyone in your home can access.
Computer recycling centers
You can also search for recycling centers in your area by Googling "electronic recycling near me." Earth911.com is another search tool to find where to locally recycle your computer.
Trade-in old computers
Recycle your old computer or computer parts by trading them into a retailer recycling program like Best Buy, which offers a % off new tech. Other places you may be able to recycle an old computer and get "paid" include:
And, of course, if you want to try and get more money for your old computer, post it on eBay or other auction sites.
---
Photo 35738992 Katarzyna Bialasiewicz | Dreamstime.com