What to Expect from OneLaunch in 2022: New Features Just for You
The OneLaunch team's design approach has always been simple: We want OneLaunch to feel like it's part of Windows 11 like it belongs there. We want it to feel natural, effortless, and like it's an upgrade to your Windows experience. But perhaps most importantly, we want OneLaunch to feel like it's yours — completely customizable.
Get a sneak peek, then read on to learn more about OneLaunch's Windows 11 updates.
New Windows, New Looks
The Microsoft team defined their Windows 11 design principles as effortless, calm, personal, familiar, and complete and coherent. Windows 11 has softer and rounded corners that make windows float instead of "snapping" to each other. The taskbar clearly reflects this simplified and minimalistic approach by removing the search bar and centering its contents. We adopted those principles in our 2022 OneLaunch features as well.
Refreshed desktop icons
We've updated each and every icon in the OneLaunch app, starting with our main OneLaunch icon that breaks out of the flat and colorless design (left) into one that's colorful and three-dimensional (right):
We didn't stop there! We've updated all our icons with the same approach, breaking out of the flat and giving into the popping icons with shades that give them depth while keeping them simple and clean.
Above: Before the OneLaunch Windows 11 upgrade, the desktop icons were one-dimensional and flat. Below: The next image shows you the new, 3-dimensional icons with our 2022 product update.
Light and Dark themes
Our users love customizing their Windows experience and tailoring it to their own needs and styles, like using Light and Dark themes, as well as accent colors. OneLaunch will adapt to these changes automatically. We've included Light and Dark modes to our settings, in case you want to change those settings manually.
Above: New for 2022, the OneLaunch app in Dark mode. Below: The same desktop view in light mode. OneLaunch automatically detects your Windows 11 setting, or you can manually set Dark or Light modes.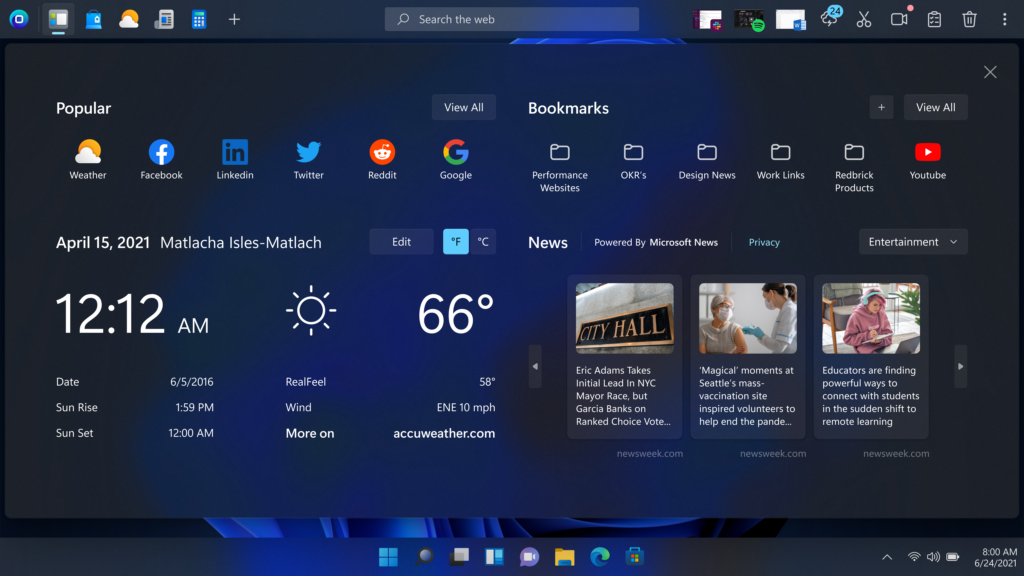 Centered search bar
We've centered our search bar to fit the Windows 11 feel of its centered taskbar. We've also created a new animation that hides everything our users don't need while typing on our search bar, resulting in a clean and decluttered experience.
What's Next for OneLaunch?
We've been listening closely to our users and the way they use OneLaunch, and we're excited to bring new features and apps in 2022 that will give them more helpful tools to make their Windows experience even better.
OneLaunch media controls for Windows 11
Later in 2022, we're releasing a feature that will allow you to access your media controls at any time. Located in the top-right corner of your OneLaunch screen, you'll be able to play, pause and change whatever you are listening to, including music and podcasts. The media player will automatically detect when you're listening to or watching Spotify, YouTube, Netflix, etc., so you'll be able to control the player from OneLaunch.
Above: Coming later in 2022 is the music control feature, which allows you to pause, play, and skip content.
Terrestrial radio come to OneLaunch
One feature we are very excited about for 2022 is the addition of a "terrestrial" Radio App to your desktops. What's terrestrial radio? Well, until the turn of the 21st century, you simply referred to it as "radio," where local DJs played music, gave weather updates, and shared local news. With the Radio App, you'll be able to listen to local radio stations anywhere in the country. This will be especially useful for our snowbird retirees, who leave the north for warmer climates in Arizona and Florida!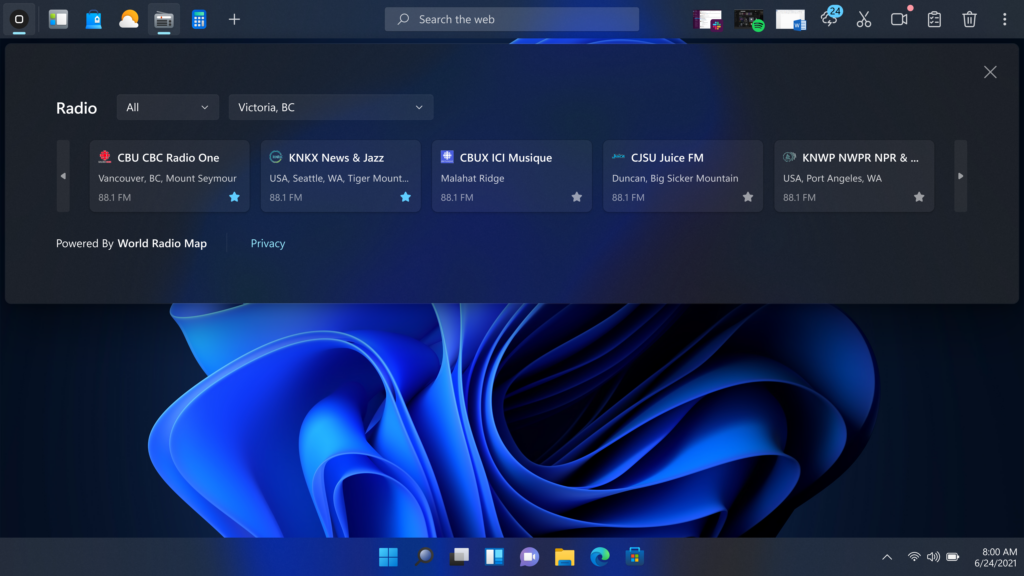 Above: Currently under development, the Radio App will enable you to live-stream your favorite local radio stations from around the country.
More Apps Under Development by OneLaunch
Very similar to Google translate, the OneLaunch built-in translation tool will help you quickly translate any word or text. The idea of the Language Translator App is to help OneLaunch users who are either learning a language or simply consuming international content.
Speaking of world travel, as more people work from home and connect with each other across multiple time zones, later in 2022, we're adding a world clock to OneLaunch. With this feature, you'll be able to add multiple analog or digital clocks, so you can track the time zones of your children, grandchildren, coworkers, friends, and family who live and travel all over the world.
Lastly, OneLaunch users love the Wallpapers App and how easy and fast it is to change desktop wallpapers. Coming soon, our users who enjoy a spontaneous change of scenery will be able to opt for auto-changing wallpapers, which you will set to change however often you'd like. This is one of those features that Microsoft doesn't include with Windows 11, so OneLaunch is making it better!
What features would you like to see? Connect with us on our official OneLaunch Facebook channel.