We built OneLaunch to bring you a new and improved Windows experience. Our desktop integration provides a sleek new way to search the web, and access countless features and utilities all from the convenience of your desktop. Pinned to the top of your desktop, OneLaunch will get you going where you need to go, simply and efficiently.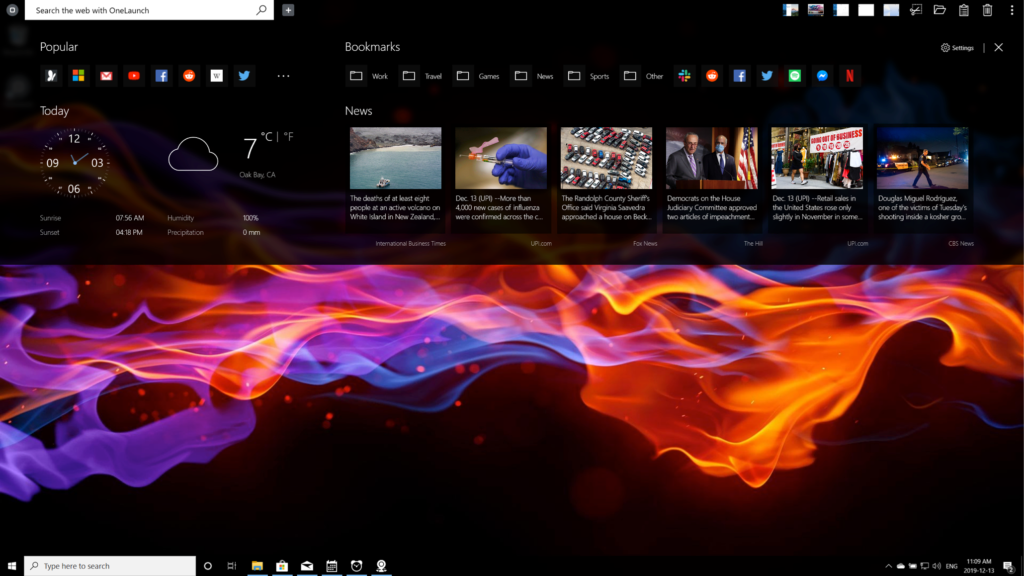 OneLaunch was designed with your needs in mind. We know that the majority of our time on our computers is spent searching the web, so we set out to create a better browsing experience. We call it OneLaunch.
By harnessing the power of Chromium, the open-source project that supports Chrome, we're able to provide a powerful browsing experience with amazing search capabilities. Input a simple query into the OneLaunch search bar and browse results at lightning speed. Plus, with all of your favorite bookmarks, and custom widgets like time, weather, and the latest news accessible in your personalized dashboard, you can stay productive and up-to-date.
But, we didn't stop there; OneLaunch offers additional custom-built features designed to enhance your browsing experience even more. Keep track of your open applications from the OneLaunch dock, and leverage our cut-and-paste log to keep track of important information that you've copied in the past.
Now, let's talk about shortcuts. We have added a few custom ones to give you quick access to the tools that you use most like the Windows screenshot tool, your recent files, and the recycle bin.
To make your digital life even easier, we added a handful of applications to our Apps Marketplace in OneLaunch. Here, you'll find handy apps like Maps & Directions, Weather, Shopping, Calculators, Dictionary, Email, Package Tracking and more. The best part? We are constantly adding more to this list to make OneLaunch better suited to your needs. Don't see one of your favorites on the list? Let us know, and we would be happy to add it for you.
Thanks for taking the time to learn more about OneLaunch. We're so happy to be able to provide you with a better browsing experience, and hope you'll continue to let us know how we can better serve your browsing needs. 
Check out a YouTube Video on this topic from the OneLaunch Team: What is OneLaunch in 2021?
The OneLaunch Team.