5 Dictionary Apps for Windows
If you've spent anytime online, you've certainly come across words you don't recognize or understand their meaning. This is where a Windows dictionary app could come in handy. To help your online experience, we did our research and found five free dictionary apps we think you'll find helpful. You can even use some of our picks offline. Let's get to it; here are our dictionary app picks for 2023.
Dictionary Apps
We found a handful of free, easy-to-use dictionary apps for your desktop Windows computer.
Windows Search Box
One of the easiest dictionary apps is the Microsoft Windows search box. While some dictionary apps allow you to look up words when you're offline, this one requires you to have internet access. To use, type in a word in the search box followed by the word "meaning" in the Windows search box on your home screen. For example, we wrote the word jumpstart and started to write "meaning," and Windows immediately popped up with the definition before we could finish typing it.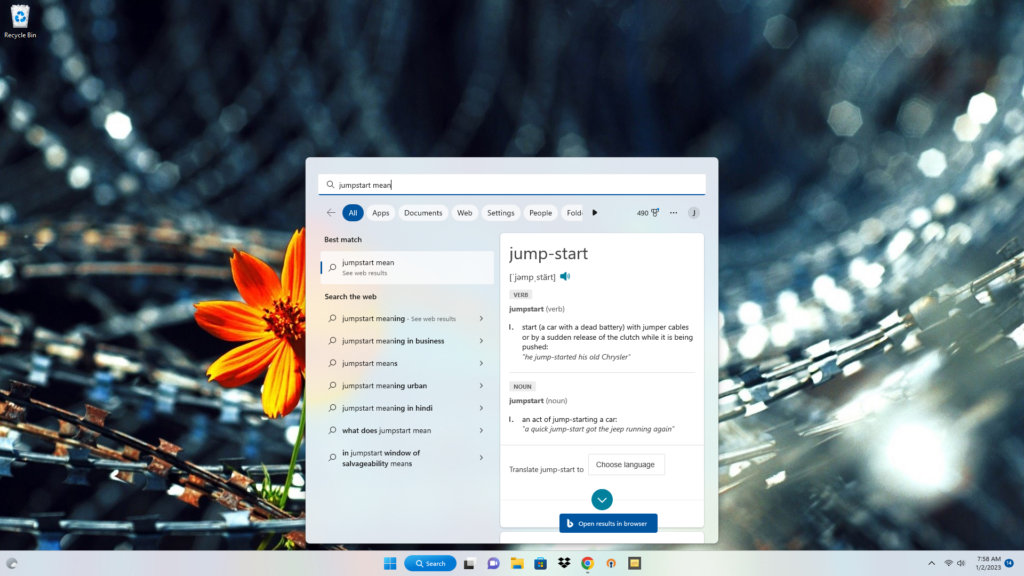 The Free Dictionary by Farlex
You can use this comprehensive dictionary app to search words online and off. The Free Dictionary offers a host of dictionaries, including legal and financial. Other features include a daily grammar lesson, word of the day, and flashcards. Open the dictionary and type the word you want a definition for; that's it.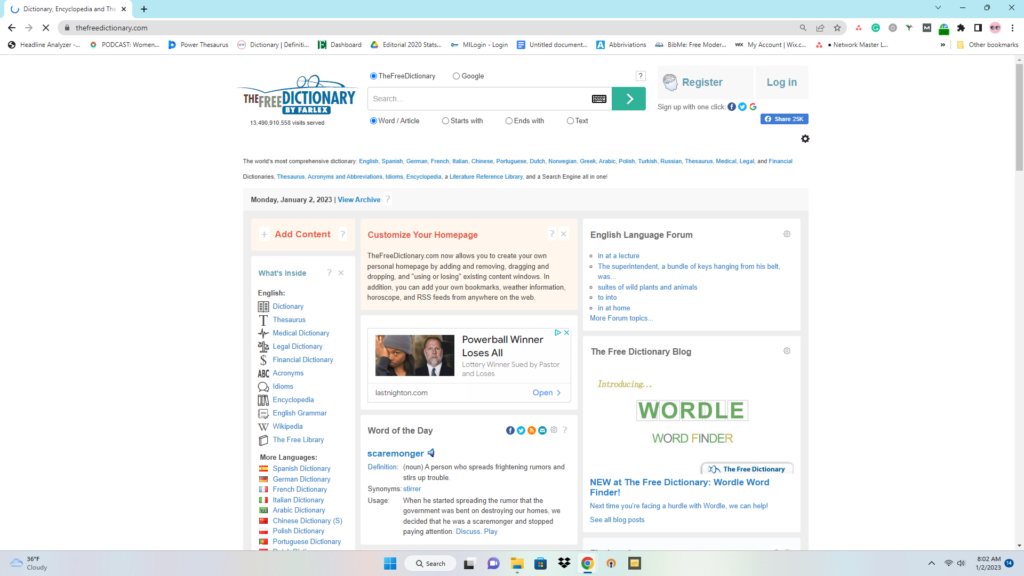 Merriam-Webster Dictionary
Merriam-Webster is one of the most well-known and used dictionaries. With the free, user-friendly online search tool, you can find the definition by typing in the word or browsing through the alphabet, and learn how to use it, and hear its pronunciation.
Dictionary.com
This online dictionary is based on the Random House Unabridged Dictionary and is free to use. You use Dictionary.com in the same manner as the above dictionaries. It can be a bit cluttered with ads, but it's fast, free and easy to use.
WordWeb Dictionary
To use the WordWeb Dictionary, find the word you want to be defined on a webpage, in a PDF document, or in a Word doc, then press the CTRL button on your keyboard and right-click your mouse. WordWeb will display a pop-up screen that includes the definition and sentence usage.
Before using this dictionary app, you'll need to install the WordWeb Dictionary app and its Lookup Chrome browser extension.
Multi-Language Dictionaries for Windows
If English isn't your native language, you want or need a multi-language dictionary. All of these work with Microsoft Windows.
Oxford Mini-Dictionaries on Topics for Windows
The Oxford Dictionary offers a collection of 18 mini-dictionaries for Windows. Each focuses on a topic:
Animals
Appearance
Communication
Culture
Food & Drink
Functions
Health
Home & Buildings
Leisure
Notions
People
Politics & Society
Science & Technology
The Natural World
Time & Space
Travel
Work & Business
Of course, you can also find other unique dictionary apps like the Merriam-Webster Medical Dictionary and Medical Dictionary Online by MegaLexica, Law.com Dictionary, and Kids.Wordsmyth for safe and easy-to-use children's dictionary.
Best Dictionary App
So, what is the best dictionary app? We are partial to the OneLaunch Dictionary app because it features a dictionary, thesaurus, and encyclopedia you can search with a click. To use the helpful app, you'll need to pin it from the Apps Library to the OneLaunch dock. OneLaunch's dictionary app is free and requires no additional download.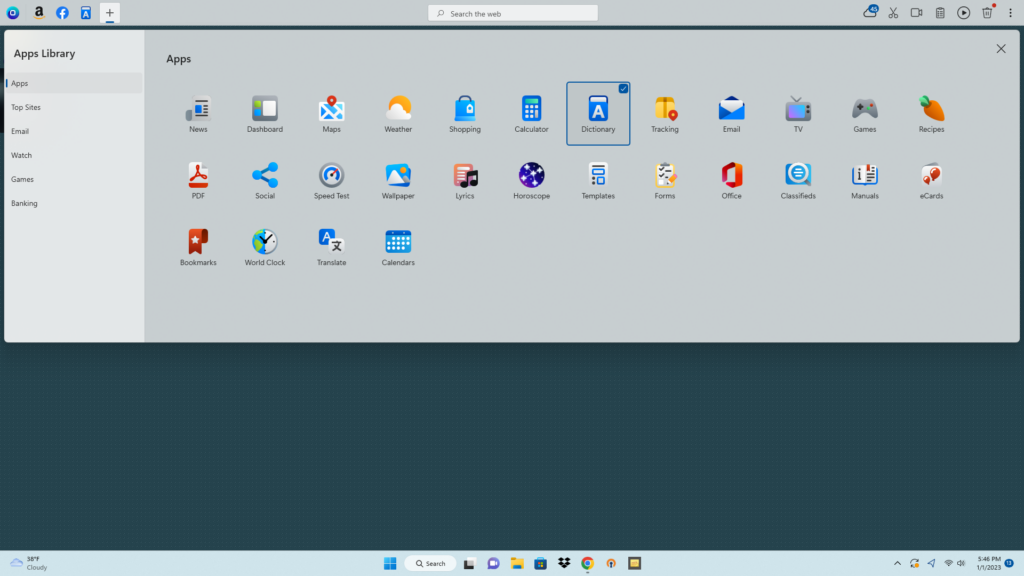 Once pinned, tap on the app icon in the dock and type in a word for a definition, synonym, or further information. The sites Dictionary.com, Thesaurus.com, and Wikipedia will immediately display your results.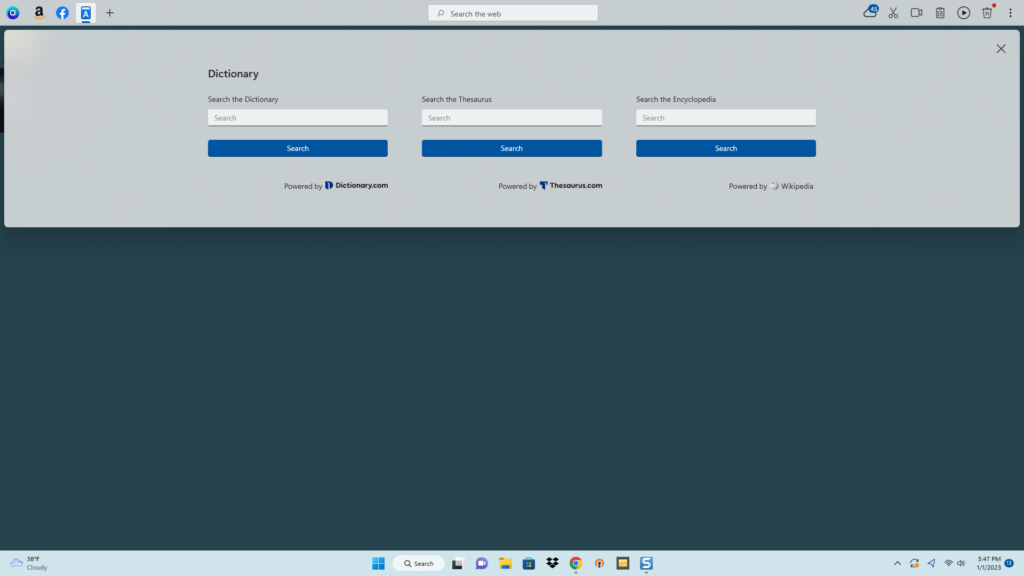 Using the OneLaunch Dictionary App, you can choose from the dictionary, thesaurus or encyclopedia.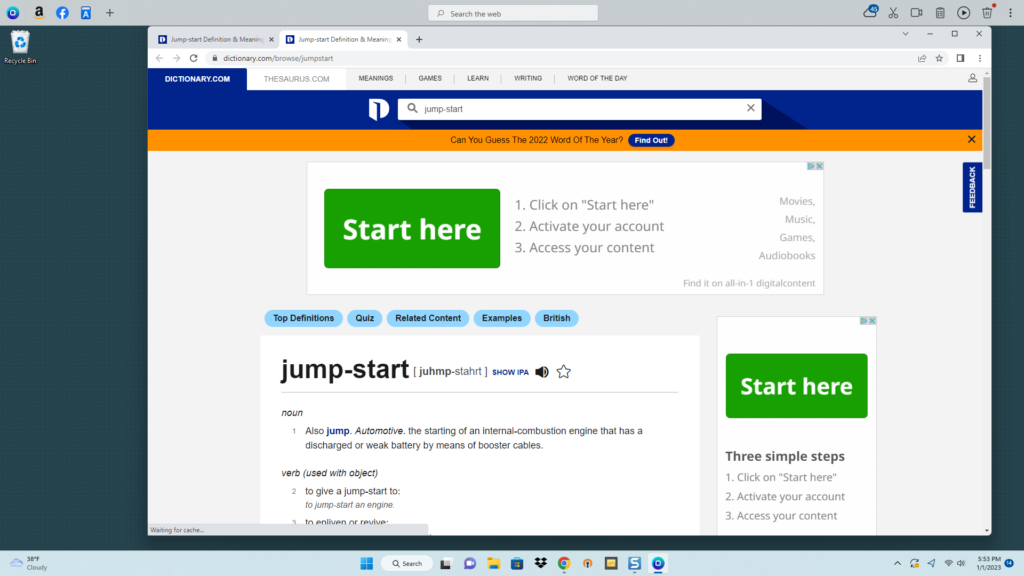 New to OneLaunch? Or, prefer a visual how-to? We put together this video for step-by-step instructions on how to pin the app to the OneLaunch dock and use the dictionary app.
Word of the Day Apps
Looking to enrich your vocabulary, one word and one day at a time?. Many dictionary sites, such as Merriam-Webster, pull double duty with Word A Day apps. Unlike searching for words on dictionary apps, you can enter your email address, and Word of the Day apps will deliver the Word of the Day to your inbox daily.
Add the Word of the Day! browser extension in Google Chrome. Each day Google Chrome will display a new vocabulary word, its definition, and 1 – 2 examples of its use from around the web.