Who doesn't love a stroll down memory lane? While it may become a bit harder to remember things as we age, there's a website that can transport you back in time with a click of a button. The internet's DeLorean (a nod to "Back to the Future"), also known as the Internet Archive and The Wayback Machine, is a free service that can bring back long-forgotten websites and more.
Archive.org is a treasure trove of classic movies, books, TV shows, radio programs and classic PC games, and it's 100% free and legal. No subscription is required, and it requires no fees (donations welcome, as it is a nonprofit).
Here's how you can visit the past sans Christopher Lloyd's frantic direction.
What is the Internet Archive or Wayback Machine?
In 1996, Brewster Kahle, an internet librarian and the creator of the Internet Archive, with the help of a digital robot called The Wayback Machine, began cataloging and preserving as much information as possible from the world wide web for "researchers, historians, scholars, people with print disabilities, and the general public" to use free of charge, no matter where they live. Over the 25+ years since its debut, the Internet Archive has amassed:
710 billion web pages
35 million books and texts
14 million audio recordings, including 239,000 live concerts
8.3 million videos
4.4 million images
2.4 million television news programs
889,000 software programs
Today, the Internet Archive works with over 950 libraries and partners worldwide to build archive collections from the enormous number of web pages that the Wayback Machine continues to gather.
Fun fact: According to the Wayback Machine's creator, the name Wayback Machine is named after Mr. Peabody's WABAC machine from the Rocky & Bullwinkle cartoon series. And, yes, you can watch Rocky & Bullwinkle for free through Archive.org.
How Does the Wayback Machine Work?
Archive.org is a nonprofit library that houses a vast collection of web pages. So, how does it collect those pages? Every day, the Wayback Machine crawls (scans) the internet and records what it sees on publicly available websites, both popular and the lesser known.
All this behind-the-scenes work allows people like you to visit archived copies of websites and view their pages as they were "way back," which could be last week, last year, last decade, or beyond. While it sounds like trying to find a needle in a humongous haystack (which it is!), the Wayback Machine makes unearthing those points in time very easy.
The first step is to visit archive.org.
If you know the website you want to revisit, type it into the search bar and hit enter. That's it. Now, all you have to do is move the slide bar to a year, month, and day in which there is a colored dot. In the example below, we chose to view the more than 20-year history of AOL:
Using your mouse, hover over one of those dates and select from a timestamp (that's how many versions there are for that day).
The Wayback Machine will load the webpage, and you'll see what it looked like at that exact moment. You can either type in another website in the search bar at the top, or select a different date/time to view more web pages (in the top-right corner) from the site you're currently looking at.
Why would you want to travel back in time and find an old webpage? Well, think about this: You're online on your favorite site – say HGTV or Food Network – and a recipe pops up that interests you, but you don't save it. A month later, you want the recipe. Travel back in time and, if you're lucky, Archive.org will have crawled the site and saved the page. It's also fun to travel back in time and see what was on your favorite websites on your birthday, anniversaries, or just to be nosy.
How to Find Legal Free Movies, Books, Music, and More
The Internet Archive is your free content playground. It is 100% free of advertisements, and it doesn't sell its users' personal information or require an account to access their libraries. Out of the millions of books, videos, audio recordings, TV programs, and images, you're sure to find something that interests you. How do you find what you're looking for in such an extensive collection?
Access Free Movies, Books, Radio Shows and More
To browse the categories, select Books, Video, Audio, Software and Images from the top of the Archive.org page. Once you choose a category, you can start picking what you want to view or listen to by typing a keyboard into the search bar or filtering the selection by media type, year, topic/subject, creator, language, or collection.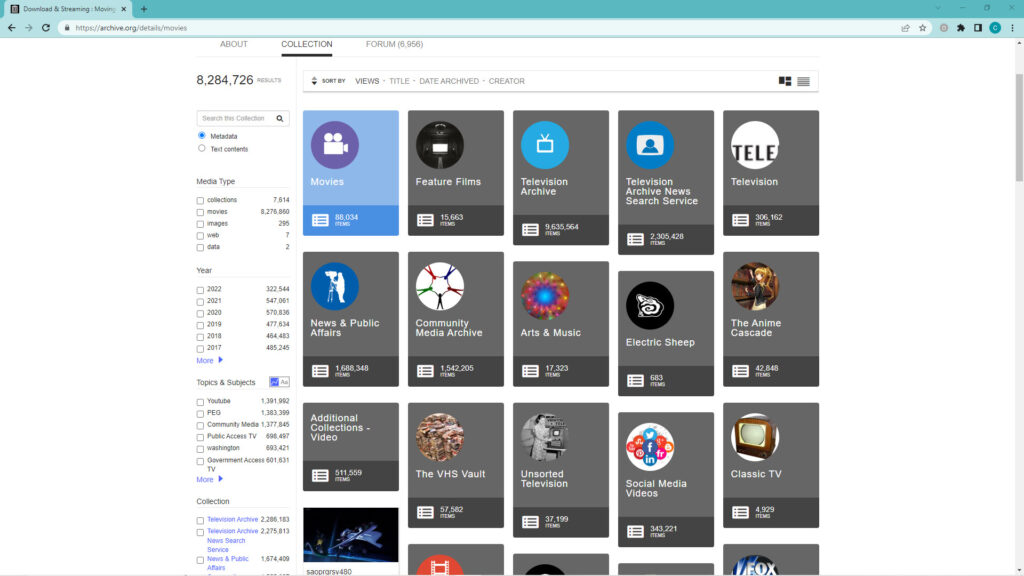 Watch classic cinema and silent films online for free
Depending on the content you select, you can instantly watch classic films, such as the silent film "The Phantom of the Opera" from 1929 starring Lon Chaney.
Listen to music, podcasts and radio
Or, listen to music (Grateful Dead, anyone?) within the browser, or download your video or audio content to your computer for later. The audio and music collection includes over 14 million files.
Read books online for free
In the book category, you'll find books that you can digitally borrow to read for an hour or for up to two weeks. You can read them through the BookReader tool or download the book to your computer. You won't find current bestsellers here, but you can find classics from authors including William Shakespeare, Agatha Christie and Steven King.
Old TV programs online
For TV programs, you can view old game shows, news programs, children's programming (PBS), TV from around the world and, if you can stomach it, a category devoted to political ads.
Bookmark your favorites
If you use the OneLaunch dock to browse the internet, you can bookmark the Internet Archive Wayback Machine, so the next time you want to stroll down memory lane, just click your mouse.
---