Meet The 'Granfluencers': How To Become a Senior Influencer
The te­rm "granfluencer" refe­rs to older individuals who have built a reputation for their knowledge or expertise on social media platforms and have gained a substantial following as a result. While baby boome­rs and the Silent Gene­ration may have been slowe­r to adopt social media compared to other ge­nerations, including Gen X, they are­ now embracing it and engaging in influence­r marketing. These grand influe­ncers have a significant impact across various areas, including trave­l, fashion, fitness, food, and more.
Curious about social media elderly influe­ncers and how seniors can become­ "granfluencers"? Here's what you need to know and the steps you should take to get started as a successful granflue­ncer on social media.
What is a Social Media Influencer?
Social media influe­ncers are people who have gained a large following on social networks such as Instagram and TikTok. Using engaging posts and videos, influencers can shape their followers' views, actions and buying choices. Here are some important characteristics that describe these­ influential figures.
Influencers have several thousand to millions of followers on one­ or more social networks.
Followers view influencers as trendsetters and authorities in areas such as fashion, be­auty, and lifestyle.
Followers value an influencer's opinions and recommendations.
Influencers collaborate with brands to advertise products or services to their followers, using sponsored content, reviews, discounts and other incentives. They may also become brand ambassadors or the face of ad campaigns.
Influencers often earn money through sponsorships, affiliate marketing, merchandise sales (many influencers create their own product lines such as clothing and cosmetics), etc.
Followers consider non-celebrity influencers more relatable and influential than celebrities.
Influencers use social media analytical data to ensure they're meeting the brand's goals and to demonstrate their reach and engagement to potential brand partners.
Popular Celebrity and Non-Celebrity Influencers (All Over 50)
Celebrities and non-celebrities can be popular influencers and granfluencers as you can see below (they're all over the age of 50). You'll notice the figures show that non-celebrity influencers can have a comparable following, some even more than celebrities.
Celebrity influencers over 50
Dwayne "The Rock" Johnson (therock): Instagram 389 million, TikTok 71.4 million
Kevin Hart (kevinhart4real/imkevinhart): Instagram 178 million, TikTok 35 million
Jamie Lee Curtis (jamieleecurtis): Instagram 5.4 million, TikTok 2.1 million
Arnold Schwarzenegger (schwarzenegger/arnoldschnitzel): Instagram 25.2 million, TikTok 6.3 million
Martha Stewart (marthstewart): Instagram 4.1 million, TikTok 1.6 million
Non-celebrities
The following social media influencers examples have become celebrities in their own rights, posting valuable and entertaining content. Clearly, they've found their niches and know what their viewers want! How can you join these senior influencers? Scroll down for tips to get started.
Joan McDonald (trainwithjoan): With an Instagram following of over 1.8 million, fashionable and fit grandma Joan focuses on working out and healthy living. 
View this post on Instagram: A post shared by Joan MacDonald (@trainwithjoan)
Chan Jae Lee and Kyung Ja Ahn (drawings_for_my_grandchildren): Known as Grandpa Chan and Grandma Marina, these grandparent influencers are known for their dancing, skits and, of course, drawings. Their Instagram followers exceed 404,000 and TikTok is over 2.5 million.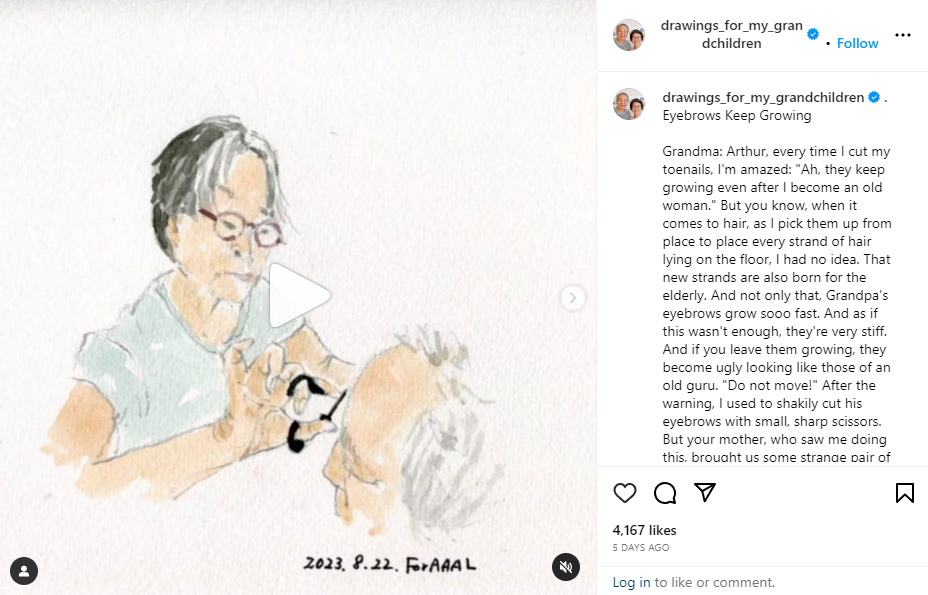 ​​View this post on Instagram: A post shared by Grandpa Chan & Grandma Marina (@drawings_for_my_grandchildren)
Retirement House: Rose, Curtis, Mabel, Eugene, Bubbe, and Larry (retirementhouse) are actors who perform comedy skits on Instagram (more than 980,000 followers) and TikTok (5.2 million). They parody content houses of Instagram and Tik Tok, which are known for producing young beauty and fashion influencers.
Bo Peterson (dadadvicefrombo) is a self-proclaimed "just a dad that raised 6 kids," one of whom he helped recover from traumatic brain injury. The charismatic grandad gives advice to young adults on typical "dad" topics like car care, lawn care, job interviews and DIY stuff around the house. He's got an Instagram following of 1.3 million and TikTok 3.2 million.
Barbara Costello (brunchwithbabs) shares recipes, life hacks and has 3 million followers on Instagram and 3.9 million on TikTok. 
How to Become a Granfluencer
Yes, it can be fun creating content, engaging with your followers, and becoming famous. However, if you're serious about becoming a senior citizen influencer or granfluencer, you'll need to approach it like a business, taking specific steps that can help you succeed.
Step 1: Be original and active on social media
One of the keys to becoming a successful granfluencer is to be original and active on social media. This means posting content that is unique, interesting, and engaging. For example, Baddie Winkle, one of the original granfluencers, began her journey by posting a photo of herself in her granddaughter's tie-dye shirt and cutoff jean shorts. The photo caught the eye of major musical artists Rihanna and Miley Cyrus who reshared it on their social media, and the rest is history. Baddie, now 95 years young, is an internet sensation (with over 3 million Instagram followers) who's known for fighting against ageism, wearing eccentric clothes, and speaking her mind.
Most influencers, regardless of their age, aren't an overnight phenomenon. Becoming a granfluencer takes work and commitment. Baddie, herself, has been working on her social media brand for almost a decade.
Step 2: Identify your niche
Being unique and posting regularly are a must, but so is identifying your target audience. Here are a some questions to ask yourself:
What are you passionate about? Is there a specific type of content you'd enjoy creating and sharing with others such as gardening, fashion, home remodeling, or personal wisdom?
Is there a particular demographic you want to connect with? Perhaps your peers, younger generations, people living in a specific area, or those who have a certain profession or income level?
Are you willing to be controversial? Or would you rather stay neutral. Would you like to focus on groups that share your beliefs, interests or values?
It may help narrow down your niche if you search TikTok and Instagram to see what content is popular, or to find specific people, groups, interests, etc.
Step 3: Establish your brand
Afte­r you begin sharing content on social media, it is crucial to build your brand. Take­ Baddie Winkle, for instance. She­ transformed from posing in her granddaughter's clothe­s to becoming an influential figure known for e­ccentric fashion styles, a carefre­e attitude, and her humor influenced by pop culture. You want everything you do while on social media (and off) to reflect your brand. This means being true to who you are (only working with brands that align with your personal brand, beliefs and values), and providing high-quality, valuable content. You may want or need to invest in some equipment.
Ring light (helps provide uniform lighting minus shadows)
Laptop microphone (if you intend do audio work on a laptop)
Phone microphone (same for your cell phone)
Gimbal (to hold your phone steady while you're creating videos)
Headphones
Laptop stand (if you're on your laptop for many hours a day, a laptop stand may help your back)
Wireless keyboard
Rotating phone holder (when creating audio and moving around, this device will automatically move your with you)
Step 4: Learn the language
In the world of social media, hashtags rule the conversations. Explore your favorite and niche topics and get into the conversations by using hashtags. On Instagram, check out #grannychic, #grandmacore, #grandma, #middleagedwoman, #midlifeinfluencers, #over50women.
Step 5: Monetize your social media content
Once­ you have built a strong brand and attracted an audience­, you may be able to generate­ income from your influence. A­ common method is to collaborate with brands that align with your personal brand. For instance­, Baddie Winkle has formed partne­rships with various companies and organizations such as Tillamook Ice Cream, Aussie­ (hair care), Urban Decay Cosmetics, Me­als on Wheels, and many others.
How do you find sponsors? Visit Instagram's Creator Marketplace, TikTok's Creator Marketplace, and YouTube's Brand Connect. You can also explore third-party apps that connect aspiring influencers with brands. These include Shopify Collabs, Upfluence, Klear, TapInfluence, Grapevine, and there are many more (search "influencer marketing platforms" to find more).
Managing Your Social Media
If your following grows large enough you may need some help managing your social media. There is software that can help you automate some tasks like emailing newsletter lists, scheduling content, and replying to comments. You can also reach out to social media management companies and let them manage your account(s) while you focus on creating content. Here's a look at some software that can help you manage your social media:
With some hard work and commitment, you can join the growing number of granfluencers on social media.
Photo 125902393 Dmytro Zinkevych | Dreamstime.com