How to Watch TV on Your Computer
Thanks to streaming (the ability to continuously access audio and video content from the internet), watching TV on your computer is possible. It also has a few advantages over traditional living room televisions. In addition to watching your favorites whenever you want, watching TV on your computer can, in some cases, reduce or eliminate cable fees. If you're new to streaming, don't worry; here's what you need to know.
Watch a Network or Channel Website
So, how do you watch TV on your computer? One way is to find local stations or major networks, including ABC, CBS, NBC, and FOX, and cable channels that stream the most recent episodes of their popular shows at no cost to you on their websites. You may find some networks or channels also stream live broadcasts in your area. However, because not all networks or stations offer live TV as an option, you can check network affiliates or other sites for your programming. To begin watching live TV on your desktop:
Open OneLaunch and click the blue Browser button on the top of the dock, and type in which station or channel you would like to watch in the search bar. For example, type abc live tv (capitalization isn't necessary) and hit Enter. Your browser will display a list of websites. Select the network or channel's website and look for a Live TV button or follow any instructions to begin watching. 
Another option, albeit a bit more work, to watching local live television is to buy an external TV tuner and attach it to your computer. You can find tuners at electronic retailers like Best Buy or online stores including Amazon. Setup tends to be reasonably straightforward. Plug the tuner's USB cord into a USB port on your computer. You will also have to connect your TV tuner to either your cable box or antenna (although some tuners have a built-in antenna). If your model doesn't have an antenna, you need to use a coaxial connector to connect the tuner to your cable box or antenna. Once you have the hardware hooked up, follow the software installation instructions that came with your TV tuner, then scan for channels. Now you can watch TV. 
Watch Cable Channels
How can you watch cable TV on your laptop or online? You may have cable networks available for viewing online if you have cable service. Go to the provider's website and sign in using your subscription information to check what's available to you. Select the channel you wish to watch.
Another way to watch cable TV on your computer is to subscribe to a streaming service like Sling, Hulu, or YouTube. One advantage to these services is that you do not need to have cable or satellite to use most streaming services, including these three, and they have many of the same channels that your cable provider carries. 
Be aware that cable channels are changing constantly, so while you might sign up for one streaming service knowing they have all the HGTV, Real Housewives, and ESPN … only to find out they've changed their lineup and your favorites are gone. The good news is that most streaming services (at least as of this publishing date) do not require contracts, and you can cancel and switch plans when you want.
Watch On-Demand Content With Streaming Services
Suppose you would like to watch movies or on-demand TV content. There are various streaming channels to select from, including free ones. You should know that no-cost services don't have the latest TV series, original programming, or blockbuster movies. However, free is hard to beat, even if you have to watch ads, similar to what you would expect on cable networks.
Some streaming channels like Peacock Free, Sling Free and Pluto TV, and Roku Channel offer on-demand content in addition to live TV. Others, including IMDb TV (exclusive to Amazon), tubi, and Crackle, are known for their movie libraries. You can select from a wide range of movies and original content in Amazon Prime Video, providing you buy or rent them (no Amazon Prime membership needed), or watch from a selection of videos for free if you have an Amazon Prime membership. Most free streaming channels also offer paid plans that include additional content or are ad-free, while a few paid streaming services like Netflix and Disney+ have extensive content collections with original programming for people of all ages.
With so many options to watch your favorite shows or new content on your computer, there's no reason you have to stay glued to your traditional television. If you're an on-the-go person, the above methods for watching TV will also work on laptops.
A great feature of OneLaunch is the TV App, where we have already linked some of the most popular streaming services to make them easy for you to access. Pin your favorite streaming services to your OneLaunch dock for super convenient access.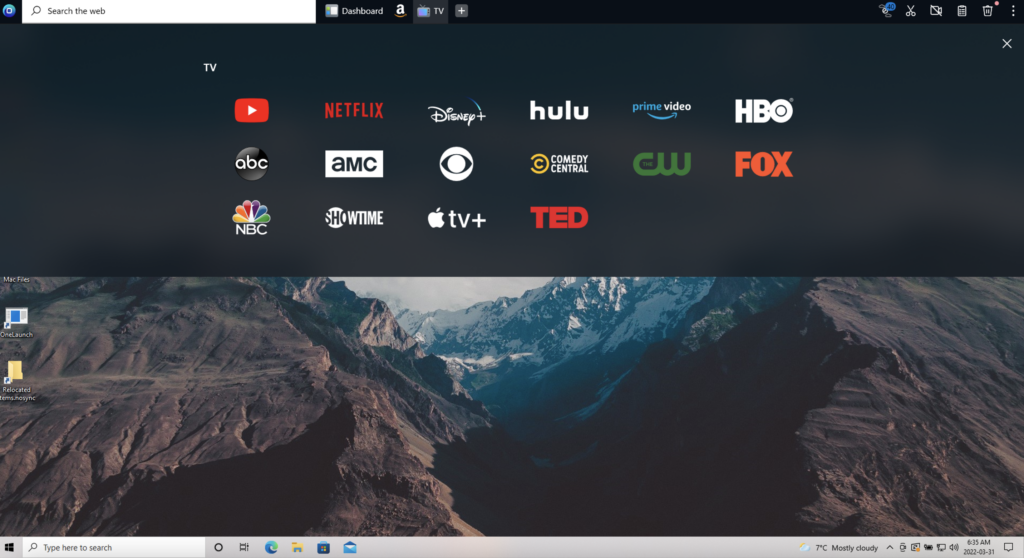 Summary: How to Watch TV on a PC
To watch live TV online, you can first try the network's website to see if they offer free live streaming. The network might require you to sign in with your cable TV provider, which means if you don't pay for cable TV, you won't be able to watch it.
If your tech-savvy and don't mind tinkering with a gadget, you can get a tuner to connect to your computer. It serves like an antenna and will help you watch local TV stations.
You can also sign up for a streaming service like Hulu, Sling, or YouTube, all of which offer packages that include live and streaming options. You'll go to their websites to watch TV programming.
Most major cable companies (Cox, for example) offer the ability to sign into your account online and watch TV live on a PC. Depending on your provider and their plan, you may be able to stream on demand as well.