We Put OneLaunch to the Toughest Antivirus Test: Will It Pass?
Downloading software can make anyone nervous. Even when the software comes from a reputable site, there are often concerns about the software's safety and legitimacy. We here at OneLaunch, have received feedback from readers asking us whether OneLaunch is safe to download and use. To help address any worries, we regularly put our OneLaunch app to the test to ensure it is safe for people like you to use with confidence. Of course, just saying it's safe is one thing, but another to show you. For that reason, we took a video of our software going through a VirusTotal scan.
What is Virustotal? How Does Virus Protection Work?
One of the nice things about having antivirus protection software is it detects and deletes viruses and malware by routinely scanning your computer or laptop, thus safeguarding your computer against harm from cybercriminals. Even with that protection, you may fear downloading software like OneLaunch, from the internet, thinking it may harm your system.
That's where VirusTotal comes in.
So, what is VirusTotal, and what does it do? VirusTotal is a third-party aggregator — a website that collects related information from multiple sources and displays the results in one place. In layman's terms, VirusTotal uses various tools, including well-regarded antivirus scanners such as Avast, McAfee, and Kaspersky Labs, and services (companies that determine which websites are suspicious), to scan things such as files. VirusTotal also scans domains, IP addresses, and URLs for viruses, malware, and the like.
Introduced in 2004 and acquired by Google in 2012, VirusTotal is free for anyone to use. To check a file, URL, domain, or IP address, visit VirusTotal.com and select file, URL or search. For a file, click the "Choose file" button and select a file from your computer or laptop.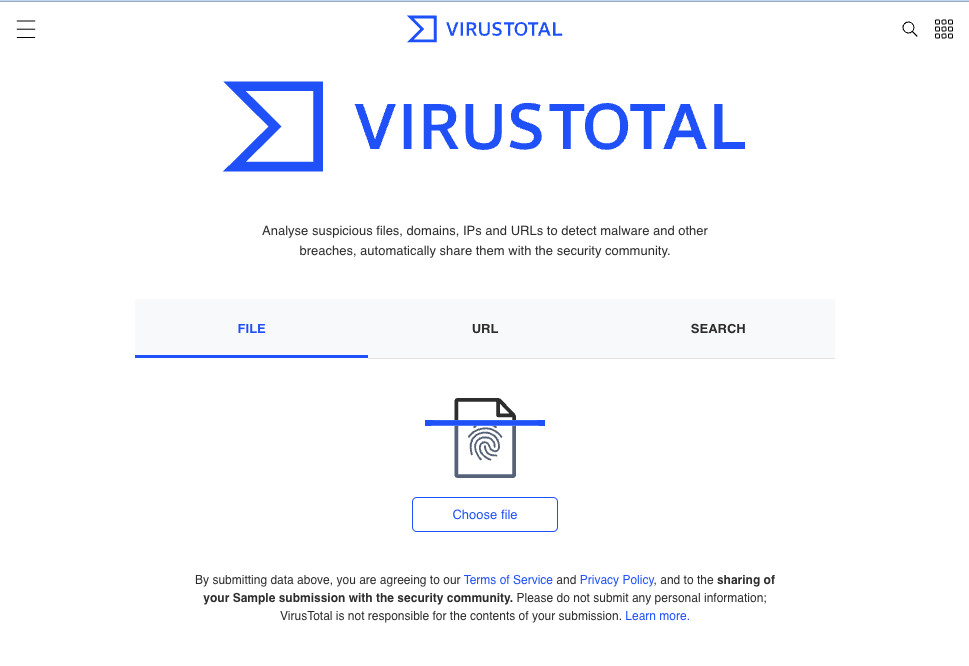 For the URL and Search options, you merely type in the specific item you're looking for, such as a URL, website address, etc. Within seconds, VirusTotal will display its report. If whatever you scanned with VirusTotal comes back "clean," you should feel confident that the item is free from malicious content. A report with red flags indicates a problem that needs addressing.
So, Is OneLaunch Trustworthy?
Because we understand watching a process can make things clearer versus just reading about it, we felt a video would provide a visual aid to understanding how VirusTotal works using OneLaunch as the example. Neil, one of our founders and the all-around go-to guy here at OneLaunch, walks you through using VirusTotal in the following video. After watching, we hope we have answered your questions, lessening your concerns surrounding the integrity of OneLaunch and that you feel confident OneLaunch is trustworthy and safe to download and use.
As you can see, OneLaunch passed the antivirus testing of 63 leading antivirus companies and security vendors. All reported clear results, meaning none found OneLaunch malicious or unsafe. We built OneLaunch with you in mind and invite you to try it. The OneLaunch dashboard is user-friendly and includes weather tools, microphone and camera privacy tools, along with a custom browser and apps library. Everything is super customizable in the OneLaunch settings.
Is OneLaunch spyware?
What exactly is spyware? Malicious software that can infect your device in several ways, including spam email, other software, or an infected removable drive like a USB drive. Once spyware enters your system, it gathers data on you to share with a third party. Of course, this is done without your permission or knowledge. With that said, no, OneLaunch is not spyware. We developed OneLaunch as an upgraded Windows experience: It's part browser, part search engine, part desktop toolbar application, all to improve your time online.
Is OneLaunch malware?
Do you have concerns about OneLaunch being malware? Are you worried that downloading OneLaunch could threaten your desktop or laptop security? Malware is an umbrella term for things like spyware and computer viruses. No, OneLaunch is not malware and will not hurt your computer.
Is OneLaunch a virus?
Like viruses in the real world, computer viruses attack, replicate, and infect others, in this case, computers. This type of malware has unfortunately been around for a long time. Once a system is infected, viruses can be difficult, if not impossible, to remove without any computer antivirus software.
If you have any questions or comments after viewing the video or downloading and using OneLaunch, please feel free to reach out to us at [email protected]. We appreciate and value feedback from our readers.
Photo: 27895358 | Alphaspirit | Dreamstime.com