7 Best Ways to Share Photos Online With Friends and Family Privately
Since the advent of social media, it's been possible to share all kinds of content about yourself online. The trouble, though, is that, if you aren't careful, your photos, videos, and other information are publicly available to anyone who has a social media account. OK for some stuff — not OK for others. What if we want to share photos online with just close friends and family?
Sharing photos digitally is far more convenient and cheaper than sharing physical copies of photos. Printing dozens of photos with a professional printing service can quickly add up in costs. Additionally, digital photos can be shared with anyone, anywhere, at any time if they exist online.
So how do you share your photos privately online? How can you control who can and can't see your photos? In this post, we'll be showing you options for hosting photos online and making sure only your friends, family and intended recipients can see them.
We've got 7 ways you can save and share photos safely online, presented in alphabetical order.
Have an Amazon Prime account? You actually have access to an excellent cloud photo storage service, regardless of what device you use. Amazon Prime Photos allows you to upload an unlimited number of photos from your various devices and access them from anywhere with an Amazon account. There's also the added bonus of being able to directly order photo prints, cards, and other physical versions of the images you've stored.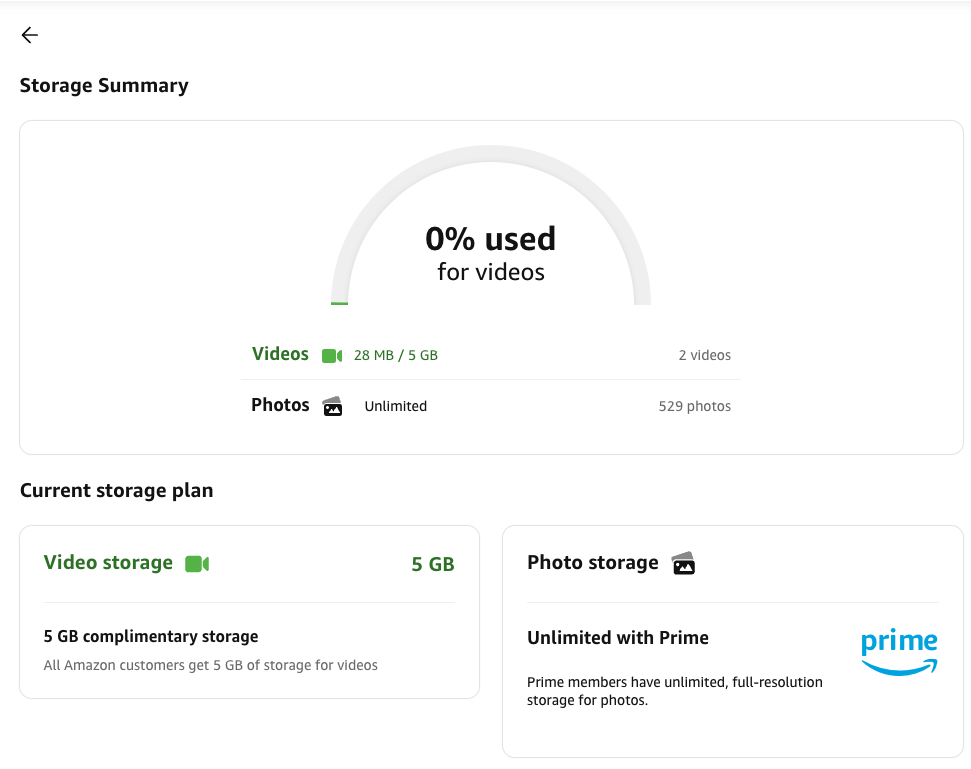 For private sharing, Amazon Prime allows you to invite up to 5 other friends or family members to a Family Vault, where photos can be uploaded and shared. You can also create other private groups attached to certain albums or images for more diverse sharing options. For group sharing, Amazon Prime is one of the best places to share photos.
Apple Photos is another cloud storage service that plays well with iPhones and other Apple devices. Apple Photos similarly has limited storage space for free but has options to pay for upgraded space. You'll be able to access your photos and albums on any IOS or macOS device that you use.
With Apple Photos, you can take and share photos as well as organize your photos into smart albums. From there, you can share your photos with anyone else with an Apple device with Airdrop. You can also add collaborators to albums so that your friends and family can upload photos of their own to the albums you create.
Dropbox is a bit different from some of the other options we've shared on this list because it allows you to upload and share any type of digital content — photos included. Dropbox is a cloud storage service that lets you create and share digital content to anyone — no Dropbox account needed. When you drag and drop your images to upload them to Dropbox, it will create a sharable link that anyone can use to download and view what you've stored. You can also make folders and fill them with images.
Although Dropbox has some amount of free storage, you will be restricted on how much storage space you have with an unpaid account (2GB of cloud storage). So, if you need to simply share (and not store) images, Dropbox is a good, free option.
If you are looking for a cloud-based storage solution, Dropbox Plus will give you a whopping 2,000 GB of cloud storage for storing and sending photos to your friends and family. If they have a Dropbox account, experiment with adding them as a collaborator to folders you've made so that they can share images of their own with you.
4. Facebook Photos
Although a lot of social media defaults to sharing your personal photos publicly, you can actually customize the privacy settings of both individual pictures and albums in Facebook. To do this, sign into your Facebook account and select your account icon in the upper right (from a desktop or laptop). Select Settings & privacy.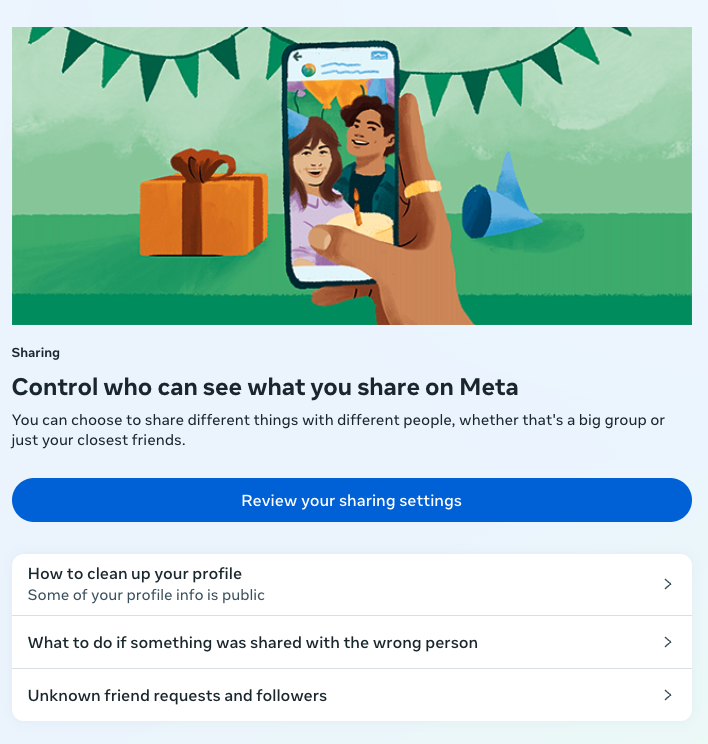 Select Who can follow me, and set it to Friends. By default, future posts will not be visible to anyone who is not a friend through your Facebook account.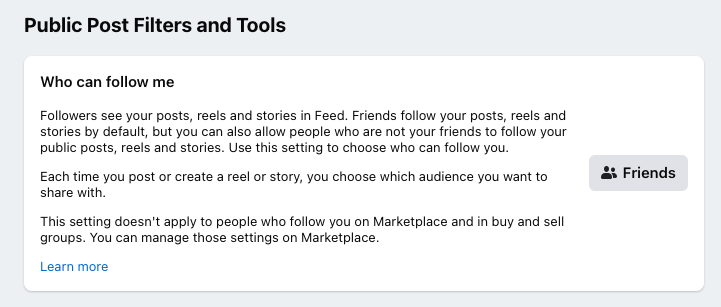 Photos in Facebook and find the photo or album of photos you'd like to make private. Select the 3 dots near the top of the album and select edit album.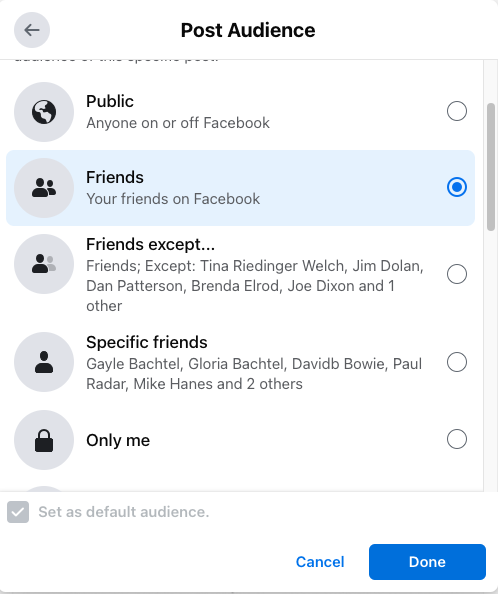 From here, you'll see a box that says Public. If you select this, you'll have the select audience options available to you. Here, you'll be able to change your privacy settings to just your friends, specific friends, or even just you.
For sharing photos one to one, or through your social feeds, Facebook (and its sister app Instagram) are excellent choices. If you're looking to store photos, however, look at Google Photos, Amazon Prime Photos, Dropbox and Apple Photos. Keep in mind that anyone viewing your private photos will need to have a Facebook account.
Flickr is an online picture-sharing website that's been around since 2004. With a Flickr account, you can browse public images by different categories and keywords. There are many professional photographers that use Flickr, so consider exploring around to see what other people are posting. Handy for finding pretty photos of your favorite cities!
Although Flickr is generally geared toward professional photographers, if you create a Flickr account you'll be able to upload up to 1,000 of your own photos completely for free. With this, 50 of those photos can be private to just you or someone with a link to the photo. No account is needed to view a private photo. With an upgraded account, you'll have no limits on how many private photos or albums you create.
If you've worked with Google Drive in the past, you know how useful cloud storage can be for sharing content across the web. Google Photos, which connects with your Google Drive, is one of the best photo upload sites because if its low cost (currently $2 per month) and ease of access across all your device.
Google Photos is an online photo service that's accessible from anywhere, with any device as long as you have a Google account. If you use Gmail for emailing, you have a Google account. Making one is completely free. Note — Google Photos does not have unlimited free storage. This means there's a limited number and size of photos you'll be able to upload with a free account.
Head over to Google Photos and you'll see there are a lot of options for sharing photos. You can upload photos from your phone or computer to Google Photos to access them from anywhere. Once you've uploaded some photos, select Albums and Create album to put the photos you've taken into an album. From here, select Share at the top right corner of the screen to share your photos with anyone else with a Google Account.
Like Flickr, Imgur is a public image-sharing site that can host and share images online. Imgur is geared toward younger audiences that enjoy memes and gifs (short video versions of images without sound). You can browse the different tags and see what images exist in categories like "funny" or "wholesome."
Imgur can also be used as a private image storage service. After you create an account, you can upload an image directly to your account. From there, adjust the privacy settings so that only someone with a direct link can view it.
Protect Your Photos Online
By using these services in the right way, with privacy settings enabled, you can help protect your photos against unauthorized use and ransomware. Amazon Photos and Google Photos, for example, offer excellent options for storing large numbers and sizes of digital photos safely. Make sure you read the terms of service for the websites you upload your photos to and make sure you regularly review your privacy settings (because software developers update their technology all the time).
---
Photo 15249473 | Anke Van Wyk | Dreamstime