Top Health-Related Apps for Managing Your Medical Information
Searching the internet for mobile health apps to help you along your wellness journey in 2023 but don't know where to begin? Apps for health and well-being offer a wide range of services and benefits. Picking the right ones can prove challenging as there are an endless number of applications for health across the web. To help ensure you get a great start towards a healthier lifestyle, we researched highly rated, popular health apps and selected the 10 best health apps.
If you don't have a smartphone or tend not to have one with you at all times, look for mobile health apps that also have a website to ensure you can access 24/7 from your desktop.
Personal Records Apps
Health information apps are patient portals that give you access to your electronic medical records and resources while protecting your personal data. These health-related apps are typically specific to your healthcare providers and are free to use. So, you may not have much choice when it comes to selecting these; the apps are typically chosen by the healthcare providers' tech teams.
AthenaPatient by AthenaHealth
The AthenaPatient app is an all-in-one health resource. You can view your health information and test results, message your doctors, schedule appointments, pay medical bills and more. AthenaPatient is free to download for Apple and Android mobile devices. You can also access the portal from your Windows desktop and, with all of these recommendations, pin your favorites to your OneLaunch bookmarks.
MyChart by Epic
Like other health information apps, MyChart contains your medical records, list of medications and allergies, test results, physician notes and so much more. In addition, you can set up doctors' visits and message your physician. If you move or switch providers, you can connect MyChart accounts between participating organizations. MyChart is free to download for Android and Apple smartphones and is accessible via computer.
Medication Reminder Apps
Sometimes it's hard to remember the simplest things, like taking your medications and supplements every day. A medication reminder app is a must if you take routine medications and have trouble remembering to take them on time. These health tools are designed for mobile devices, not web-based use.
Medisafe Pill & Med Reminder
Medisafe helps you stay on track and in control of your medications. You can view drug information and interactions with medications, the last time you took your pills, and future doses. You can receive family notifications as reminders and track over 20 health measurements. The app is free to download and use for Android and iOS devices.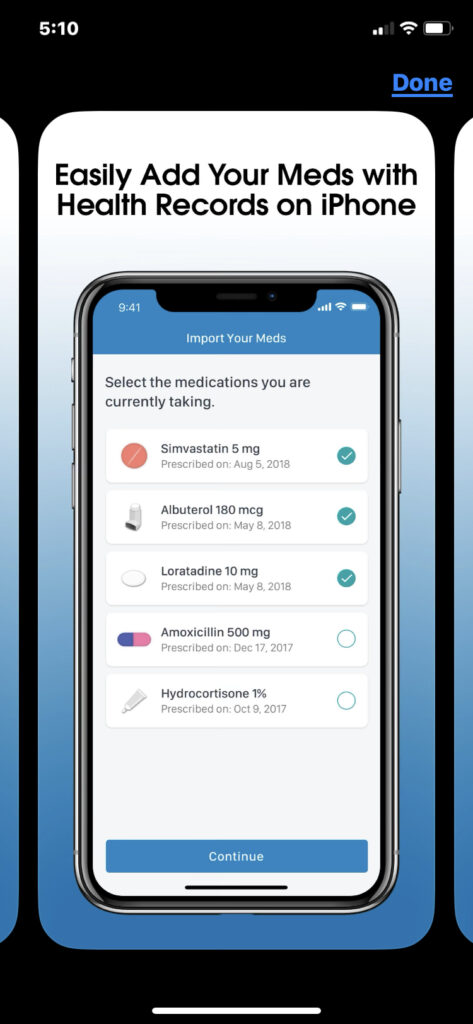 MyTherapy: Medication Reminder
With MyTherapy, you can manage your medications and record your intake. Accessibility features in the app include dynamic text, color contrast, and alt text support for screen readers. This medication reminder app is free for Android, Apple smartphones, and the web. MyTherapy isn't available for computers.
Telehealth Apps
Today, you can visit a physician virtually from the comfort of your home or anywhere else in the world. These telehealth apps are free to download but will range in cost for virtual visits. Also, some states have different laws when it comes to what healthcare providers are allowed to do through telehealth, so services may not be available everywhere.
HealthTap
You can get a doctor's advice via video or text with a virtual primary clinic, HealthTap. You can schedule same-day or future appointments and get referrals, labs, prescriptions, and follow-ups. HealthTap is available for free via web and mobile devices. Subscription is $15/month (for some insurance plans, you don't need to subscribe), video visits are $39 or less, and anytime urgent care is $59 or less.
Teledoc Health
This telehealth offers an array of virtual services, including:
General medical
Mental health
Primary 360
Wellness care
You can speak with a healthcare professional 24/7 via the app, phone, or video. Teledoc will send reminders about your upcoming visits if you opt into notifications. This telehealth app is free to download on Android and iOS devices. You can also access Teledoc via your Windows computer. Prices vary; general medical visits are $75, while some services may cost nothing, depending on your health insurance plan.
Nutrition Apps
Got some bad eating habits you'd like to change? A nutrition app may be able to help you.
Fooducate
This nutrition app helps you learn about the food you're eating. Find essential information in the Fooducate app by scanning an item's barcode. Personalize your diet, and track your meals, snacks, water intake, and exercise to help you reach your goals. The app is free to download for mobile devices but has numerous paid subscription options.
MyPlate!
MyPlate! is a free app from the USDA that can help you meet your eating goals. You can set goals within each food group, watch real-time progress, participate in challenges and earn badges you can post on social media to help inspire and encourage others. This nutrition app is available for Android and Apple smartphones and Windows computers.
Fitness Apps
It's never too late to get into shape. A fitness app could be the key to a more active lifestyle.
Yoga for Beginners Mind&Body
Yoga for Beginners Mind&Body is a paid yoga app for Android and Apple users that can teach you the basics up to advanced poses. You can improve your balance, find relaxation, build strength or increase flexibility with this fitness app. A subscription costs $12.99/monthly ($3.25 per week) or $39.99/annually ($0.74 per week). The app has a 7-day free trial.
Nike Training Club
If you're searching for a free fitness app that offers various workouts, the Nike Training Club app might work for you. This fitness app includes several free workouts and programs like HIT (high-intensity training) workouts, yoga, and bodyweight burn. This fitness app is only available for Apple and Android users.
Organizing and accessing multiple web-based health-related apps is easy with OneLaunch on your Windows computer. Simply open your OneLaunch desktop and visit the websites you intend to use. Click the star in the upper right corner, give the page a name if you wish, and under the Folder dropdown menu, select Bookmarks Bar to "bookmark" the page, and tap Done. That's it! The next time you want to access your health app, all you have to do is click the page you want to visit.
---
Photo 85382507 / Woman Uses Laptop © Mark Adams | Dreamstime.com