Tired of the Same, Boring New Tab Page? Check Out the Refreshed OneLaunch NTP
The OneLaunch team is always looking for ways to simplify and improve the Windows users' online experience. It's why we exist. We've created the best homepage, AKA browser start page, and this article will help you learn how to use it. We've also included a video that shows you how to use OneLaunch's new tab page.
Our recently upgraded OneLaunch new tab page (NTP) for Windows desktop users is a feature that is both personalized and informative to help you get the most out of your browsing session.
So, what does the new tab page look like? How does it help you when you're online? The new page tab is the webpage you get when you open a new tab in OneLaunch. If you use Chrome, Firefox, Edge, or some other internet browser, it's the same thing. Usually, you hit a little + sign and the browser opens a new tab for you. 
For example, if you're on Amazon.com and want to visit OneLaunch.com, you can click the plus sign next to the current "tab." This will create a new tab page where you can type in the webpage you want to visit. In this case, OneLaunch. Hit enter, and the browser will take you to the OneLaunch homepage.
This video shows you how it works.
Opening the OneLaunch Chromium Browser
When you use OneLaunch as your enhanced Windows experience, you don't need to download and install a special new tab extensions app to take control of your experience. We've built in these features.
Here's what you do: With OneLaunch open, click the OneLaunch icon in the upper left corner of the browser. This will open the Chromium home page with a customized Windows new tab page experience. The page includes a custom doodle that changes daily, a search box powered by Yahoo, and a set of five shortcut tiles that represent your most visited sites, providing a quick and easy way to access your favorite sites with just one click.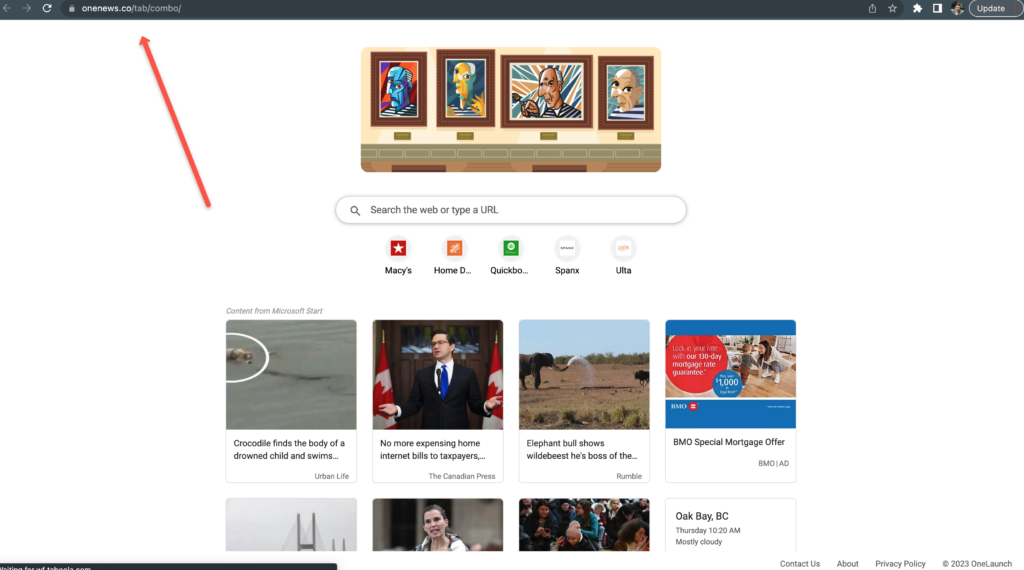 Customized News and Weather Information
Below the shortcut tiles, you'll find a selection of news articles from MSN that are tailored to your location. These articles are designed to keep you up to date with the latest news and trends in your area. Learn how to customize your news feed in OneLaunch.
The new tab page also includes a weather widget that provides a glance at the daily local weather. If you want additional information, click through to our partner AccuWeather to visit their site. It's worth noting that the new tab page experience includes some ads, that are clearly labeled as such. These ads are provided by our partners and are designed to be both relevant and informative. 
Benefits of the OneLaunch New Tab Page
Overall, the new tab page experience in the OneLaunch Chromium-powered browser is designed to provide you with a personalized and informative browsing experience. Whether you're looking to stay up to date with the latest news and weather or just want quick access to your favorite sites, this browser has you covered. Within the new tab page, you can click on the star in the address bar to bookmark websites if you want to save them so you can revisit them. If you'd like to share the page you're on, simply tap the arrow icon in the search box and share the page link with others via numerous ways, including email, Facebook, and Twitter.
OneLaunch New Tab Page Vs Microsoft Edge, Mozilla Firefox, and Opera
Microsoft's Edge: Comparing the OneLaunch NTP to the new tab page for Microsoft Edge, which is rather busy with a background, tabs, icons, and links, you'll notice our NTP has a minimalistic appearance for those who appreciate an uncluttered homepage.
Mozilla Firefox and Opera: These web browsers also have simplistic new tab pages. The Chrome new tab page has several shortcut tiles but lacks news or weather content. With that said, unlike other browser new page tabs, the OneLaunch NTP still has all of the convenient dashboard tools and widgets, providing you with a complete desktop. This means there's no need to leave the OneLaunch Chromium browser to access any dashboard features, such as the clipboard history, snipping tool, and media controls. 
Chrome: Google's Chrome browser lets you customize your new tab page, but as with a lot of things Google, this can be a little complicated for those who aren't super-tech-savvy. Click the pencil in the lower right corner of your browser and then "Customize this page." You can turn off shortcuts and cards, and you can also customize what shows up in those fields. It's a streamlined, clean experience, but not easy to navigate.
OneLaunch: The OneLaunch Chromium browser and new tab page (for a sneak peek) provide a unique and personalized online experience that is worth checking out. If you're looking for a browser that goes beyond the standard Chrome or Firefox experience, give the OneLaunch Chromium browser a try and see what you think. And if you have any feedback or suggestions, feel free to reach out to the OneLaunch support team at [email protected].
---
Photo 57096314 / New Computer © Maglara | Dreamstime.com